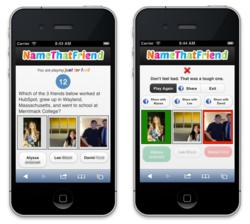 We gather a lot of information in real-time from Facebook before crafting each trivia question. We cull through a lot of data for each question in an attempt to create a question that will be engaging for the user, and also be challenging and fun.
Boston, MA (PRWEB) May 17, 2013
This week, Tapbooty, which offers free social games for fun & rewards, announced the launch of its first game, Name That Friend (http://www.Tapbooty.com/games/name-that-friend/). Name That Friend is a social trivia game built on top of Facebook that presents trivia questions to users based on their Facebook friends. The Name That Friend trivia game can be played for free (in "just for fun" mode), or it can be played for rewards & prizes. Since being launched on May 13, 2013, Name That Friend has been played over 50,000 times by more than 5,000 people.
Jonah Lopin, Tapbooty co-founder, noted "We are seeing a lot of users engaging with Name That Friend, and so far they are doing great. Our users are getting about 65% of the questions right these days. Folks with fewer friends have a higher right-answer percentage than folks with a lot of friends, because they tend to know their friends better. We find users are playing Name That Friend over and over again, trying to beat their own records. Our users consistently tell us they are having fun learning facts about their Facebook friends while playing, and they are often surprised at the facts they learn."
Name That Friend leverages Facebook friend information from 19 different categories, including languages, education, hometown, location, political leanings, work history, and favorite things (books, movies, etc.). John Osborne, Tapbooty co-founder & CTO, commented "We gather a lot of information in real-time from Facebook before crafting each trivia question. We cull through a lot of data for each question in an attempt to create a question that will be engaging for the user, and also be challenging and fun."
Name That Friend is available on Tapbooty.com, which can be accessed in the browser on iOS devices, and will soon be available on Android as well. Jonah added "In addition to finding us at Tapbooty.com, we hope folks will connect with us on Twitter and Facebook, and on the Tapbooty blog."