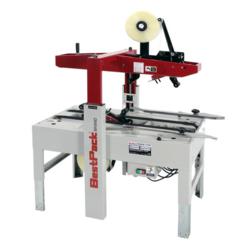 Results of the study revealed that side drive case sealers are definitely more superior, although costing a bit more than the bottom belt drive taping machines
Rancho Cucamonga, CA (PRWEB) September 12, 2011
In industrialist settings, the question of whether to invest in side drive or bottom belt drive taping machines is an important topic of concern since it involves thousands of dollars – an amount not all companies can spend. Packaging equipment manufacturer BestPack.com recently conducted a study to address this major issue once and for all.
According to the recently published study, side drive taping machines offer more benefits such as having a larger carton range and two motor drives to pull the box through, which generates more power and stability which in turn produces less wear and tear. Boxes that go through side drive taping machines naturally transform into squares as it runs through the carton sealers. Additionally, side drive taping machines are sturdy enough to hold up against heavy boxes that bang up against the machine.
The main advantage of investing in bottom belt drive taping machines, on the other hand, is its cost-effectiveness. Bottom belt drive taping machines are ideal for small businesses who also package their own products because these case sealers do not require a huge amount of initial capital investment. Additionally, bottom belt drive taping machines have a lower carton minimum height requirement when compared with side drive case sealers. Bottom belt drive taping machines only require a height of 3" against side drive case sealers' 3.5" height requirement.
Results of the study revealed that side drive case sealers are definitely more superior, although costing a bit more than the bottom belt drive taping machines. This is because a side drive taping machine provides more stability and power, lessening the wear and tear on belts. A side drive taping machine is also more powerful than a bottom belt drive case sealing. However, bottom belt drive taping machines are good for its price. Small businesses can easily invest in a bottom belt drive taping machines especially if the business is limited by budget constraints. For its price, a bottom belt drive taping machine is a great packaging equipment.
BestPack.com is a California-based packaging equipment manufacturer that offers a wide selection of taping machines that will suit the needs of different industries. Custom-built packaging equipment is also available. Other related products from BestPack.com include packing tapes, carton sealer accessories, and case erectors.
To receive exclusive deals and offers, join the company's mailing list or simply visit the packing tape distributor's official blog for the latest packaging industry news.
About BestPack.com
Based in Rancho Cucamonga, CA, BestPack.com is the industry leader in packaging equipment machinery, case sealers, carton erectors and packaging tape. BestPack.com is one of the most reputable manufacturers of all product packaging systems, providing customized packaging solutions for various industries. This press release is produced by Cybertegic.com - an Internet marketing services agency that specializes in search engine optimized press release marketing (SEO marketing).
###