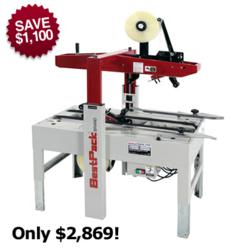 Selected products from the packaging solutions provider can now be availed with reduced prices, resulting to savings of over $1185.00.
Rancho Cucamonga, CA (PRWEB) January 30, 2012
BestPack.com, manufacturer of high-quality taping machines, starts the New Year with several promotions designed to help companies lower their packaging costs. Selected products from the packaging solutions provider can now be availed with reduced prices, resulting to savings of over $1185.00.
Selected taping machines, for example, now offer savings of over $1100 as retail prices of the MBD and MSD Simple System machines. Now available for only $2,869.00, the MBD Case Sealer is BestPack's most economical model, making it ideal for companies who need an affordable solution. The cost-saving "Problem Solver" MSD Simple System retails for a promotional price of $4,955.00 and is guaranteed to perform numerous applications for all carton sealing needs. The MSD Simple System includes a workhorse MSD model top/bottom sealer, infeed and exit conveyor system, and a unique L-bracket carton stopper and holder.
Aside from the MSD and MBD taping machines at reduced prices, BestPack.com also offers a case of specially-formulated packaging tape for every purchase of the MSDBF Semi-Automatic Pack and Seal Station. The MSDBF taping machine eliminates the need to use different carton sealers to form, pack, and seal boxes, speeding up the packaging process because of its all-in-one form/pack/seal solution. It is portable and cost-effective and companies can save a lot of money and time with the MSDBF carton sealing machine.
Buying any taping machine from BestPack and accompanying a pallet of carton sealing tape with that purchase entitles the customer to a free tapehead. The offer is also available for clients who will purchase any two BestPack carton sealers, which means savings of up to $1,185.00. Finally, BestPack.com continues to offer the Tape 2 Parts Voucher Program where a purchase of machine roll carton sealing tape entitles the receiver to a one-time $100 voucher which can be spent on spare tapehead parts and machine belts. The Tape 2 Parts Voucher Program, multiple problems on taping machines can now be solved at no extra cost because spare parts for tapeheads and machine belts now come for free.
All promotions cannot be combined with any other offer and companies have three months to take advantage of these cost-saving solutions as they all end March 31, 2012. With BestPack.com, packaging solutions become affordable both for big and small companies without compromising the quality and engineering of products such as taping machines, carton sealing tapes, and more.
To receive exclusive deals and offers, join the company's mailing list or simply visit the taping machine distributor's official blog for the latest packaging industry news.
About BestPack.com
Based in Rancho Cucamonga, CA, BestPack.com is the industry leader in packaging equipment machinery, case sealers, carton erectors and packaging tape. BestPack.com is one of the most reputable manufacturers of all product packaging systems, providing customized packaging solutions for various industries. This press release is produced by Cybertegic.com - an Internet marketing services agency that specializes in search engine optimized press release marketing (SEO marketing).
###