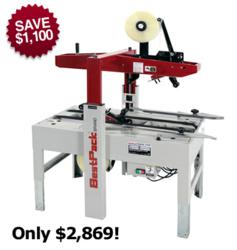 The MBD Case Sealer, now available for only $2,869.00, offers huge savings of up to $1,100.00.
Rancho Cucamonga, CA (PRWEB) March 28, 2012
Both small and big businesses are always on the look-out to save thousands of dollars on packaging equipment. Affordable solutions are always available from BestPack, a manufacturer of taping machines, carton sealers, and carton sealing tapes. As a provider of packaging solutions, BestPack has the goal of helping customers save on packaging machines.
In response to the increasing prices of packaging equipment, taping machine manufacturer BestPack now offers a huge price discount on its most economic model, making it even more affordable for companies who are feeling a surge for this season. The MBD Case Sealer, now available for only $2,869.00, offers huge savings of up to $1,100.00 – an amount that customers can use on other packaging needs and supplies.
The Manual Bottom Drive Case Sealer is an operator-fed, adjustable taping machine equipped to cater to the needs of light to heavy-duty, uniform carton closure applications. The two bottom belts are driven by one bottom drive electric 110V UL approved motor. The MBD Series are also designed with four adjustable legs for quick easy height adjustment to production lines. The model comes with 2" or 3" tape heads, offering an even more valuable taping machine deal. Customers can choose between standard finish and stainless steel. Offer expires on March 31st, 2012.
BestPack's other promotions include the MSD Simple System for a price of $4,955.00 and free tapeheads for every purchase of a taping machine and pallet of BP carton sealing tape.
To receive exclusive deals and offers, join the company's mailing list or simply v isit the taping machine distributor's official blog for the latest packaging industry news.
AboutBestPack.com
Based in Rancho Cucamonga, CA, BestPack is the industry leader in packaging equipment machinery, case sealers, carton erectors and packaging tape. Also providing customized packaging solutions, BestPack is one of the most reliable and dependable manufacturers of all product packaging systems. This press release was produced by Cybertegic.com - an Internet marketing services agency that specializes in search engine optimized press release marketing (SEO marketing).