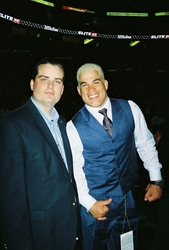 An Icy Smooth Road to King of the Cage
Lac du Flambeau, Wis. (Vocus) April 14, 2009
Lake of the Torches Resort Casino in Lac du Flambeau Wisconsin announced today that its director of marketing, Michael J. Broderick, is featured in issue 30 of the premium mixed martial arts magazine "TapouT". Hitting newsstands throughout the country, the exposé discusses Broderick's influence in bringing the international promotion "King of the Cage" and national pay-per-view MMA shows to numerous venues throughout the United States as well as Northern Wisconsin. In addition, the article goes behind the scenes detailing Broderick's relationship with the promotion's president Terry Trebilcock, the value and influence MMA has had on the gaming industry as an entertainment option for a growing and influential demographic of casino patrons, the demise of Pro Elite and EliteXC, the CBS deal that almost was, the UFC's Dana White, and adventures on frozen lakes with three ton SUV's. The two page spread entitled "An Icy Smooth Road to King of the Cage" by Jeffery Kimberlin is informative as it is entertaining, which speaks volumes to the approach Broderick has taken when marketing the casino - resort and its events. Fans and professionals of MMA as well as seasoned gaming and hospitality executives are encouraged to pick up a copy today!
About Tapout Magazine
TapouT is one of the most popular brand names in MMA. The TapouT brand is often featured at major events and on the clothing worn by several top MMA fighters. TapouT Magazine is the only full color, glossy, MMA and grappling tutorial available in the US. It includes training columns by some of the world's top MMA writers, fighters and coaches, including Bas Rutten, Mike Swain, Randy Couture, Frank Trigg, Erik Paulson, Eddie Bravo etc. It is also the number one and fastest growing exclusive MMA magazine in North American.
TapouT Magazine has a paid circulation base of 32,000 and growing at an amazing rate of an average of 500 additional subscribers and 1,5000 additional newsstands each issue. Subscriptions for the magazine are in over 15 countries and growing. They are in all Barnes and Noble, Borders Books, B. Dalton, Books a Million, Walden Books nationwide along with over 600 independent bookstores. TapouT Magazine is now in thousands of locations in all 50 states including Martial Arts Studios, Affiliates, PMG Military Sales, MMA Product Stores and Newsstands. They have a phenomenal 82% sell through rate. They are based out of Cypress California.
About SMP, INC.
SMP (Sales and Marketing Professionals) is a sales and marketing group that specializes in multi-million dollar sales. SMP, Inc. owns the following brands and companies: SMP Printing, Tapout Magazine, MMA Worldwide Magazine and MMA Worldwide Industries.
About Lake Of The Torches Resort Casino
Situated on the shores of Pokegama Lake and nestled in Wisconsin's Northwoods, the Lake of the Torches Resort Casino has a feel of a classic Northern retreat and reflects its Ojibwe culture and heritage. The casino has over 800 slot machines (including a non-smoking area), 12 blackjack tables and three poker tables, a high-stakes Bingo Hall seating up to 500 persons, the 24-hour Game Time Grill and the Eagle's Nest Restaurant. The hotel has 101 well–appointed rooms, the Dancing Waters Lounge and the Woodland Oasis pool area. The 8,500 square-foot Convention Center with the Hall of Nations offers an outstanding venue for entertainment, receptions, trade shows, meetings, presentations and seminars.
More information on upcoming events at Lake of the Torches is available at http://www.lakeofthetorches.com.
###