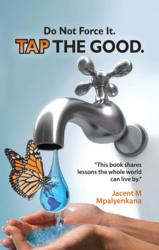 "Poor soul the center of my sinful earth, Enthralled by these rebel powers that thee array"
Shakespeare: Sonnet 146
Los Angeles, CA (PRWEB) February 21, 2013
Jacent M Mpalyenkana is an Author, Spiritual Empowerment Life Coach/Healer, and her mission is to offer empowering and healing solutions to women. Jacent is a business expert with a Post Graduate Certificate in Negotiations, a first class Masters' Degree in Business Administration and a Bachelors' Degree in Commerce.
Jacent M Mpalyenkana is also an Advanced Emotional Freedom Technique, Neuro-linguistic Programming, and Ho'oponopono Practitioner; which skills branded her with the knowledge, and foundations upon which she wrote the book:Do Not Force it, Tap The Good.
"This book took me on a learning experience of the things I already thought I knew. It's about turning every negative into a positive, making wise choices in order to Tap The Good in life. If you have ever wondered why you keep making bad life choices which are getting you nowhere, Jacent M Mpalyenkana identifies the causes of the human shortsightedness and steers us in a more meaningful direction." Amazon Review by K.G -Link to the review http://www.amazon.com/review/R2A35XJSP72I2Q
Do Not Force It, Tap The Good, dissects life-issues from their roots, and then discuses simple but viable mind, body and soul healing and empowering techniques that can load one's life with joy and enthusiasm. The book is written for anyone facing challenges in life; one who may be feeling like life is not worthy living.
The metaphysical and spiritual concepts discussed in the book have been known to get even the most skeptical readers to question their own understanding of life and its surroundings.