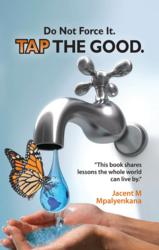 "The riches, blessings and happiness we receive will be in exact proportion to the definiteness of our vision, the fixity of our purpose, the depth of our self-love, the steadiness of our faith and the depth of our gratitude."
Los Angeles, California (PRWEB) January 21, 2013
What makes Ms. Jacent - the author of Do Not Force it, Tap The Good an expert in the book's theme are her personal experiences, based on which she employed real life scenarios to prove the fact that experience comes two-fold-with good and bad happening at the same time. Experience hence becomes individualistic. Furthermore, while the book is written for anyone of reading-age, teenagers, and/or young adults, will particularly benefit from the self-discovery exercises, simplified self-empowering discussions written in the book.
Jacent is a published author, and business professional with a first class Masters' degree in Business Administration, and a Bachelors degree in Commerce. Jacent is also an advanced Emotional Freedom Technique (EFT), Ho'oponopono and Neuro-linguistic Programming Practitioner. Some of Jacent's spiritual teachers include but are not limited to; Reverend Michael Bernard Bechwich-leader of Agape International Spiritual Center, and Dr. Matthew B. James- Founder of Empowerment Partnership.
The book comes at a time when the whole world is losing it; with un employment rates at 7.8% as of December 2012 (Source http://en.wikipedia.org/wiki/Unemployment_in_the_United_States,) including an alarming increase in crime and drug-use rates. The book discusses proven techniques that will inspire and empower one to look at the world with a new pair of eyes; and then reprogram him/herself to appreciate the fact that indeed, life is what you make it.
###The spiritual concepts employed in the book, are simplified, yet practical and relatable. Readers will easily resonate with the stories and scenarios presented in the book.