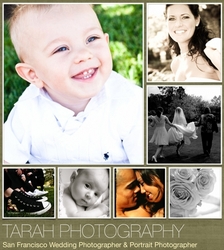 Gift certificates are a unique gesture to gift your loved ones lasting memories
San Francisco, CA (PRWEB) August 6, 2009
Need a gift for the has-everything-friend, mom/dad-whose-children-are-growing-too-fast, or the couple-planning-a-wedding-of-the-century and needs a wedding photographer? Tarah Photography, a portrait photographer and wedding photographer based in San Francisco, is now offering Gift Certificates. Tarah Photography Gift Certificates can be activated in any amount, used in combination with other gift certificates and special offers. Each gift certificate can be personalized, customized and tailored for a perfect gift for every occasion in every budget.
"Gift certificates are a unique gesture to gift your loved ones lasting memories," said Tarah Cranford, wedding photographer. "Being able to share in creating those memories is better than any store bought gift!"
Tarah Photography Gift Certificates make great last minute gifts too. Perhaps for the expecting mother, the bride-to-be, or to capture the first glimpses of newborns and children. Certificates will be beloved by the pet lover, held proud for the high school senior portrait or for a special event to remember for generations to come and more.
For purchasing information and additional information please visit Tarah Photographys Gift Certificates page.
ABOUT SAN FRANCISCO PHOTOGRAPHER TARAH PHOTOGRAPHY

A wedding photographer and portrait photographer -
Tarah Cranford, a San Francisco photographer, serves the greater Bay Area in San Francisco, Napa, Sacramento, Marin, San Jose, Monterey, Los Angeles and beyond. She has worked with numerous acclaimed clients in the Bay Area and beyond such as Ultimate Fighter Frank Shamrock, Executive Producer Brian Benson of "Groove," VH1's reality TV star Margo from "Tool Academy," UBS Financial Services among others. She specializes as a wedding photographer and portrait photographer and uses a photojournalistic style. She has been profiled by The Wall Street Journal, featured by Fox Business News and included in Entrepreneur.com as an emerging photographer. She has also been a guest on various business building shows such as "The Big Biz Show" on both their radio edition, Talk Radio Network, and TV edition WealthTV, and was a guest on Robin Hardy's radio show. For more information visit TarahPhotography.com.
###