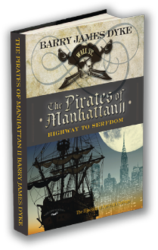 Target-date mutual funds lost as much as 40% of their value in 2008
(PRWEB) February 22, 2012
In the sequel to his best-selling book, The Pirates of Manhattan, author Barry James Dyke sounds the alarm bell for the tragic state of retirement planning with target-date mutual funds in The Pirates of Manhattan II: Highway to Serfdom, The Hijacking of America's Savings. In recent years, target-date funds have flourished in 401(k)s as many American corporations have terminated their traditional pensions. Corporations increasingly use 401(k)s as the main retirement plan for today's workforce. A typical target-date mutual fund has contains several dozen mutual funds which in turn contain thousands of stocks, bonds, derivatives, real estate investment trusts and other assets. The author notes, "these investments are so complex they make my head hurt."
The author warns, "Americans do not have a prayer with target-date funds. The complexity of a target-date mutual fund makes a collateralized debt obligation (CDO) with different tranches of debt look simple. There is no accountability. There are no standards. Investment risk has been dumped on the little guy. The idea that an asset manager of a target-date fund can predict future investment returns with asset allocation is an illusion of biblical proportions. Like subprime mortgages and student loans, target-date mutual funds are another Wall Street crime with the Department of Labor driving the getaway car."
Target-date mutual funds lost as much as 40% of their value in 2008. According to the author's research, target-date mutual funds reside in the retirement plans of Apple, Best Buy, Boston Scientific, CBS, Cisco, Computer Sciences, Disney, EMC, Kodak, Fluor, Gannett, The Gap, Honeywell, Kroger, McKesson, Microsoft, News Corp (Fox News), Oracle, Pepsi, Raytheon, Target, Whole Foods, Wells Fargo and hundreds more.
Target-date funds [also known as life-cycle funds] have been sold to consumers as an "all in one" retirement investment yet they have no guarantees. These complex mutual funds are becoming a dominant funding vehicle for retirement savers. According to the Investment Company Institute, the mutual fund trade group, as of February 2012 more than $2 billion a week in new money is flowing into hybrid mutual funds. The industry's largest providers of target-date mutual funds are Fidelity Investments, T. Rowe Price, Vanguard, BlackRock, JPMorgan Chase and Wells Fargo. The mutual fund industry successfully lobbied for target-date funds as the key default retirement investments with the Pension Protection Act of 2006. The author, who spent over four years researching retirement savings, warns that target-date mutual funds are "The Hijacking of America's Savings."
The book, which is available exclusively through http://www.thepiratesofmanhattan.com has already sold in 45 states and in Europe in its first week of release. For press inquires, contact the author at castleassetmgmt(at)comcast(dot)net or phone 603-929-7891.
###