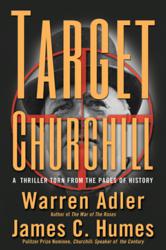 New York, NY (PRWEB) June 25, 2013
June 24, 2013 (New York, NY) A fictional assassination attempt on the life of Winston Churchill as he delivered his fated 'Iron Curtain' speech on March 5, 1946 at Westminster College in Fulton, MO, is the backdrop of "Target Churchill," a taut historical thriller co-authored by Warren Adler (The War of the Roses) and Pulitzer Prize nominated Churchill biographer James C. Humes. The book released on June 20th, 2013 is published by Stonehouse Productions, and rose instantly to the Amazon bestseller list in Historical Fiction.
According to Adler, "The post-war loss of Churchill may have damaged the Western world with the same impact as the post-civil war world was damaged by the loss of Lincoln."
Authentic historical characters including Stalin's executioner and secret police Chief Lavrentiy Pavlovich Beria, Soviet secret agent and member of the 'Cambridge Five' Donald Maclean, President Harry Truman and Churchill's legendary bodyguard Walter H. Thompson make up an intriguing cast of characters in "Target Churchill".
In recreating an icon that changed the course of Western history, James C. Humes reminisced a 1953 meeting with Churchill himself who advised him, "Study history…in history lie all the secrets of statecraft," and added that, "If Churchill had been prevented from delivering his 'Iron Curtain' address, all Europe - not just its Eastern sphere - might have fallen pray to the tyranny of Communism."
"Target Churchill" is available in paperback and e-book formats on Amazon, Barnes and Noble, Kindle, iBooks, GoogleBooks, Kobo, and all major outlets at $9.95 (E-book) & $15.95 (Paperback).
About the Authors:
Warren Adler is best known for "The War of the Roses", "Random Hearts" and the PBS American Playhouse Series adaptation of his "The Sunset Gang". He fueled an unprecedented bidding war between Tristate, Warner Bros. and Columbia Pictures for his then unpublished manuscript for Private Lies. Adler has sold or optioned a dozen of his works including "Funny Boys", "Madeline's Miracles", "Trans-Siberian Express" and his Fiona Fitzgerald mystery series to Hollywood and major television networks. He is the author of 34 books, and has been translated into 25 languages worldwide.
James C. Humes is a Pulitzer Prize nominated author of "Churchill: Speaker of the Century", and former presidential speechwriter who worked for Ronald Reagan, George H.W. Bush, Gerald Ford and Dwight Eisenhower. He has represented the U.S. State Department in lectures on American government all over the world and has served as a communications advisor to major U.S. corporations, including IBM and DuPont. He is the author of more than 30 books, and one of the few Americans alive today to have met Winston Churchill. A widely sought speaker across the country, Humes lives in Pueblo, Colorado and is Visiting Historian at the University of Colorado at Colorado Springs.
Both authors are available for interviews and can be reached by contacting Gargi Shindé at gargi@warrenadler.com or (212) 350-9356.
####