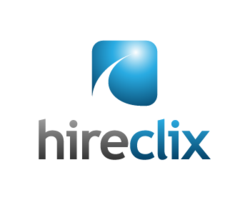 The HireClix solution is more targeted and strategic than those from big brand job ad networks, and thus it's more efficient.
Hollywood, FL (PRWEB) September 08, 2011
ERE Expo Booth #304 – Today from the ERE Expo in Hollywood, Fla. HireClix, a digital recruitment marketing agency based in the Boston area, announced a new solution to help corporate recruiters better target highly-coveted passive candidates. HireClix now offers comprehensive, targeted recruitment advertising campaigns that narrowcast jobs to web sites and communities where specific candidates spend their time online.
HireClix's targeted advertising campaigns deliver the client's employment brand message to highly qualified passive candidates by matching their personal characteristics to the places they visit online. Starting with strategic media planning and research, to attention-getting advertising creative, through to precision delivery of the ads, HireClix gives corporate recruiters a customized program that attracts candidates for specific jobs. Campaigns are tailored to attract the right candidates by matching the candidates' professional skills, work experience and even personal interests to deliver online ads directly to major websites, online industry trade publications, blogs and community sites where those candidates spend time online.
"HireClix taps into modern and innovative online advertising technology to deliver a superior employer brand experience and better candidate targeting for our clients. The HireClix solution is more targeted and strategic than those from big brand job ad networks, and thus it's more efficient," says Neil Costa, CEO or HireClix. "Instead of boasting about reaching millions of Internet users, we can help our clients narrowcast their jobs to the people that matter, while increasing the return on their investment and delivering results quickly. "
HireClix targeted recruitment advertising delivers fundamental advantages over competitive offerings from big brand job boards:

Strong employer branding – the employer owns the advertising unit versus just a small icon or link
Flexible campaign goals – campaigns and advertising units can be customized to build an employer brand, support regional hiring efforts or events, drive recruiting for a specific functional team such as engineering or sales for example, or to a specific job opening
Special initiatives –targeted advertising can bolster strategic diversity or campus recruiting programs
Continuous optimization – the HireClix team of digital recruitment marketing experts closely manages campaigns, turns off under-performing ads and suggests new opportunities to maximize high-performing opportunities
Analytics and reporting – comprehensive reporting and measurement is provided to the client in order to determine future spending and the right recruitment marketing mix. The program elements are analyzed to determine how the ads performed and ensure that candidates are tracked as they pass through the client's applicant tracking system (ATS).
"We can look at a Monster Career Ad Network advertisement and typically find five to ten reasons why the ad is not going to work," says Costa. "Our team of online marketers can assess these ads and propose a plan that will be more targeted and effective."
For a limited time, HireClix is offering any Monster Career Ad Network customer $1,000 off their first targeted advertising campaign with HireClix (minimum order of $10,000). Contact HireClix at 888-419-CLIX or by email at contact(at)hireclix(dot)com to inquire.
About HireClix
HireClix, LLC is an interactive recruitment marketing agency that helps corporate recruiting teams, staffing firms, and other businesses get practical results by delivering customized recruitment marketing campaigns, leveraging search engine optimization, pay-per-click recruiting, targeted interactive advertising, email marketing and social media. HireClix is focused on building employment brands to find quality candidates through innovative recruitment marketing strategies and zealous support. Contact HireClix at 888.419.CLIX or by email at contact(at)hireclix(dot)com.
# # #