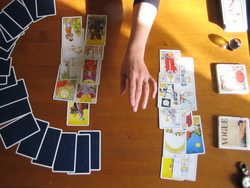 Restoring the spiritual dignity of Tarot with an authentic voice for all Tarot seekers.
(PRWEB) June 27, 2010
The Complete Tarot Package for All
There has never been a better time to join Tarot Professionals as a complete beginner or experienced reader! Take a course with them and become a full member for a year automatically! Get a 1-week course, a 5-week study course, video lessons, 11 magazines with over 1,000 pages of Tarot from the worlds leading authors and teachers, massive forum, and legal & marketing guides. This is truly the package of a lifetime! Join the course below and you'll be automatically enrolled for a years full membership.
Tarot Professionals Ltd has announced a new addition to their growing portfolio of professionally mentored Tarot courses, "The Palace of the Phoenix". This is a one-week online experience teaching alchemical symbolism in Tarot. In an exciting development, they are pleased to announce leading Tarot scholar, author and artist Robert M. Place will be guest mentoring during the week. His deck, "The Alchemical Tarot" will be used on the course and offered at an incredible discount rate for students.
Not only that, participants will receive a 148-page book on Alchemy written by Marcus Katz, M.A., and a years membership of Tarot Professionals, included in the cost of the course, only $67 (£45). This includes the 7 back issues of Tarosophist International, the worlds leading Tarot magazine, and a further four issues during the year! Along with hours of video lessons, footage from their recent conference featuring Rachel Pollack, hundreds of pages of Tarot in the magazine, and a huge forum to answer all your Tarot questions, this is the complete Tarot package for the modern student.
You can enrol on the course and receive the full membership package any time prior to 7th July 2010. The course then commences on 10th July. To find out more and take advantage of this deal, see their website:
http://www.tarotprofessionals.com/gates.html
Tarosophy® Tarot Houses
There are now Tarosophy® Tarot Houses worldwide, with more forming every week. These friendly regular meetings in your area provide membership of Tarot Professionals and exclusive innovative Tarot teaching for the group! You also get all the magazines, materials, and videos as a member. The latest Tarot Houses are in Singapore, Hong Kong and more are following. If you have a small regular Tarot group and are ready to explore further, you can find out how to register yourselves as a Tarosophy® Tarot House at:
Tarot Radio Online!
For those wishing to learn more about Tarot, Marcus Katz was recently featured on the wonderful Beyond Worlds radio show, which airs regularly and has the best Tarot interviews, insights and ideas from around the planet. You can tune in and also catch the archives at http://www.tarottribe.com Hosted by Donnaleigh, Storm, Georgianna and Theresa this show regularly offers the latest in considered and friendly Tarot!
Tarot Professionals Offers a New Tarot & Astrology Inner Guide Workbook
The Inner Guide GPS Chart & Workbook is based on your own Astrological Birth Chart Correspondences and provides a precise discovery of your inner patterns and blocks, and a means of engaging and releasing them. Using the method first described by Edwin Steinbrecher, and 25 years of teaching from Marcus Katz, working with many hundreds of individuals and groups worldwide , plus insight from leading Astrologer and author Lyn Birkbeck.
This 30-40 page workbook gives you a detailed analysis of the Tarot correspondences and relationships in your own birth chart - and then a method of building on your strengths and working on your weaknesses!
This is a totally unique package and ideal for birthdays, personal self-development work and workshops. Contact us for group orders and discounts or to act as an Agent. If you would like a printed version, please contact us for postage.
What people are saying already ... "The only people working with this technique so fully in this decade!" ... "I'm already finding so much to work on in it" ... "Can't wait to offer this to my own students - it's so unique!"
The Workbook is only £35 (PDF 40pp) and delivered by email within 2-3 days.
See the main site for details.
Tarosophy® Tarot Conference 2010 (September 11-12th UK)
Tarosophy® Workshop September 11th-12th 2010 in the Lake District, UK with guest speaker Lon Milo DuQuette, best-selling author on Aleister Crowley, Magick and Tarot (in his only UK visit in 2010) joined with other expert speakers on Kabbalah, Tarot & Astrology, Marcus Katz (Tarosophy, pub. Salamander & Sons, Summer 2010), Mick Frankel and Kim Huggens (Tarot 101, pub. Llewellyn).
Get your place reserved now at:
http://www.tarotprofessionals.com/conference.html
BATS Bay Area Tarot Symposium 28th-29th August 2010
Marcus Katz will also be presenting at the famous Bay Area Tarot Symposium on 28th-29th August 2010. Organised by the wonderful Thalassa and the Daughters of Divination, this will be an incredible event. Reserve your place immediately and we'll see you there:
http://www.dodivination.com/sf_bats
Tarot Scams, Legal and Professional Guidance
Tarot Professionals Ltd has a vision to "restore the spiritual dignity of Tarot" and in doing so, bring commercial common-sense and professional sensibility to the field of Tarot. Their next project is a supplement to their forthcoming magazine and details the types of scams, cons, bad practice and unethical behaviour that lurks using Tarot as a front. In doing so they will raise awareness of such examples and promote good practice wherever possible. If you have stories or examples that demonstrate any case of bad practice, please do forward your information – which will be treated in confidence – to enquiries@tarotprofessionals.com for the forthcoming supplement.
###