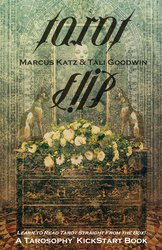 I just found this marvelous site and just joined today. I find it so amazing the wealth, breadth and depth of knowledge already amassed here. I am really loving it.
Long Beach, CA (PRWEB) October 22, 2010
Following the success of social network site, Tarot Town with over 3,000 Tarot Readers sharing in this fun and friendly space, Tali Goodwin and Marcus Katz of Tarot Professionals Ltd have published the innovative Tarot Flip, to help people get reading Tarot straight out of the box!
There has never been a better time to join Tarot Professionals as a student, reader or teacher - we offer Tarot support which is fast, fun and contemporary! Discover a deeper passion and sense of spirit through Tarot in the otherwise frantic and uncertain pace of life.
The Tarosophy Team have also now revealed details of the innovative Tarosophy Hekademia TAROT DEGREE Program, a two-year comprehensive course on Tarot available online from January 2011. This has been created by Marcus Katz, the author of Tarosophy: Tarot to Engage Life, Not Escape It.
In Tarot Town you'll also discover the voice of Tarot with Beyond Worlds Radio Show, and many other innovative ways of learning and applying Tarot.
###