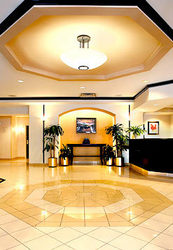 Tarrytown, NY (PRWEB) July 10, 2010
The comfort and conveniences of an extended stay hotel will soon have a whole new attitude at the SpringHill Suites Tarrytown, New York hotel where an extensive renovation is planned. The hotels' already spacious suites are being updated with a fresh new look and the lobby is undergoing a total makeover.
"I am confident that our extensive refurbishment will improve the guest experience to the extent that it will create fresh demand for the value added incentives that our particular brand brings to the market," says Hotel General Manager Mary Kay Manchin of the renovation scheduled to be complete in early 2011.
Guest suites at this Tarrytown hotel in Westchester County will receive a full renovation with new beds, updated desks and other furnishings, lighting and even new curtains for an all new look . The suites at this distinctive hotel are already spacious by design with 25% more space than average hotel rooms and feature separate areas for relaxing, dining and sleeping as well as a pantry area, mini refrigerator and microwave. With all new furnishings and brand new bedding, these hotel suites are perfect for family or extended stay needs. Renovation of the hotel's lobby is going all the way down to the concrete to create a contemporary great room with distinctive style that is warm and inviting to New York guests seeking quality hotel amenities, exceptional service and spacious accommodations.
Fun and affordable Tarrytown hotel deals combined with plenty of room for everyone make the SpringHill Suites Tarrytown Greenburgh hotel a perfect gathering place for family vacation fun. Unique family fun packages are available that include pizza, a movie and a $50 coupon book to Funfuzion in New Rock City; or families can "Nickelodeon" their stay for added fun for the kids and extra quiet time for mom and dad. In addition to spacious accommodations, a hotel pool and whirlpool, guests will enjoy a complimentary breakfast buffet, convenience of "The Market" for 24/7 access to food, snacks and travel needs, free local shuttle service and complimentary parking.
When planning business meetings or social events, the SpringHill Suites is a perfect destination for clients or out-of-town guests and its first class amenities along with two intimate event spaces, catering services and professional event planners make it perfect as a wedding hotel in Tarrytown. Rooms may be booked online at http://www.marriott.com/hotels/travel/hpntr-springhill-suites-tarrytown-greenburgh/ or call 1-800-228-9290 for reservations or more information.
About the SpringHill Suites Tarrytown Greenburgh
Conveniently located near major area corporations, Pace University, Fordham University, West Point Military Academy and Phelps Memorial Hospital, the SpringHill Suites Tarrytown Greenburgh Hotel offers guests stylish accommodations and a smoke-free environment. The hotel provides guests with complimentary high-speed Internet access, a full-service business center and an on-site fitness center that boasts updated equipment with personal TVs.
# # #