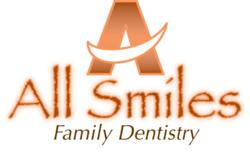 Leading Dentist All Smiles has an experienced dentist with over 20 years experience in cosmetic, general, pediatric & implant dentistry.
Tarzana, CA (PRWEB) September 26, 2012
The leading Tarzana dentist, All Smiles Family Dentistry, is now offering a $55 new patient exam, x-rays and professional cleaning. The practice provides comprehensive dental services including pediatric, general, cosmetic, Invisalign, dental implants and teeth whitening treatments. Those interested should call (818) 724-4844 for scheduling.
All Smiles Family Dentistry serves the greater Los Angeles area including Tarzana, Encino, Reseda, Sherman Hills, and surrounding areas. The office treats patients from toddler age through adulthood.
All Smiles Family Dentistry has an accomplished Los Angeles dental implants specialist offering extraordinary artistic talent and skill to provide a natural looking and feeling smile. Contemporary dental implants utilize a small titanium post which is positioned in the jawbone and either connects to a false tooth or supports bridges and dentures.
Dr. Khanian is also an expert Encino cosmetic dentist, and has over two decades in practice after training at USC Dental School. He has extensive training in porcelain crowns and veneers, inlays/onlays, dental implants, dental bridges, pediatric dentist treatment, dentures and oral surgery.
For more information and to schedule appointments, All Smiles Family Dentistry can be reached at (818) 724-4844.