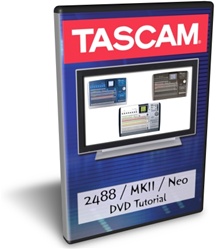 Mastering Effects is a big addition to the popular 2488 series and this DVD covers them all.
Denver, CO (PRWEB) September 19, 2011
A training tutorial DVD aimed at helping musicians understand their Tascam 2488 Neo has been released by ProAudioDVDs.com, the market leader in video training materials for musicians and studio owners.
This DVD tutorial is not only a review of all the functions and features of the Tascam 2488 Neo, it's also like an updated visual version of the owner's manual instructed by veteran trainer David Wills.
"I wanted to explain all of the cool things that the Tascam 2488 Neo can do, but also get into a bunch of features that I don't think that user manual explains fully enough." said David Wills, owner or ProAudioDVDs.com.
"The Tascam 2488 Neo has so many useful features that most users are only using a fraction of what it can do. In this 2488 Neo training tutorial DVD we go through everything."
"My goal is to make it like you have one on one time on all the features of the Tascam 2488 Neo and to immediately get you up to speed on the entire product. Why review the whole written user manual when you can get quick up-close visual training on specific subjects?"
With the addition of the new Mastering Effects, the Neo version of the popular 2488 recorder is more of an all in one unit.
David Wills has produced over 50 DVDs in the nearly 20 years since he launched ProAudioDVDs.com. As an Audio Engineer and Consultant for artists such as Michael Jackson, Phil Collins, Earth, Wind & Fire and Diana Ross, David brings real world experience from the pro world but in any easy going conversational style of presentation.
The DVD covers the following...
(Features brand new sections on the MKII and Neo versions)
RECORDING SCHOOL
"What is Multitrack Recording?"
The signal path
Channels vs. Tracks
Recording levels
Setting levels on the 2488
Microphone placement
Types of Microphones
Phantom power
RECORDING ON THE 2488
Creating a Song
Naming a Song
Connecting a Microphone
Routing Inputs to Channels
Setting Levels
Arming Tracks
Recording 1st Track
Importance of good Monitors
Using the front Guitar (H) input
Overdubbing
Linking stereo Channels
Virtual Tracks
Mic Effects
Naming Tracks (User Words)
Punching in
Repeat function
Setting Location points
Bouncing Tracks
EDITING ON THE 2488
Using the Jog function
Setting In and Out points
Copy and Paste
Setting To point
Edits
Front panel shortcuts
Undo
BUILT IN TONE GENERATOR
Settings
Benefits of using drum guide
Setting time/measures display
Builtin Metronome
Rhythm guide setup
Selecting from the 20 drum kits
SMF playback
GM Specifications
Loading SMFs
Adjusting the Tone Generator Parts
Playing SMFs
MIXING
Mute function
Solo function
Pan
EQ
Compression (Mic Effects)
Stereo L/R Dynamics Processor
Loop effect
Effect sends
External Effect returns
8 Inputs available at Mixdown
Pre/Post send settings
Multi Effects
Mixing down your Song (Pre-master)
MASTERING AND BURNING
Playing Pre-master
Trimming Pre-master
Burning to CD-R (Track at once)
Burning to CD-R (Disc at once)
TRANSFERRING TRACKS
"Opening" the USB connection
Connecting a Computer
Transferring files
"Closing" the USB connection
USB Import
USB Export
CD-R Import/Export
CD-R Backup
GRADUATION
About ProAudioDVDs.com
Founded in 1992, ProAudioDVDs.com has produced over 50 training DVDs on the operation of music production equipment. Partnered with industry leaders such as Roland, Tascam, Korg & Zoom, it is celebrating nearly 20 years of being a market leader in product training resources for recording and live musicians.
###