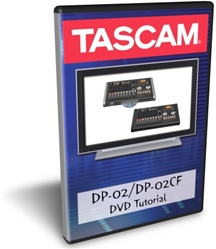 Everything you need to know about the Tascam DP-02 has been condensed down to a single Training DVD
Denver, CO (PRWEB) September 27, 2011
A new Tascam DP-02 training DVD aimed at helping musicians understand their Tascam DP-02 has been released by ProAudioDVDs.com, the market leader in video training materials for musicians and studio owners.
This DVD tutorial is not only a review of all the functions and features of the Tascam DP-02, it's also like an updated visual version of the owner's manual instructed by veteran trainer David Wills.
"I wanted to explain all of the cool things that the Tascam DP-02 can do, but also get into a bunch of features that I don't think that user manual explains fully enough," said David Wills, owner or ProAudioDVDs.com.
"The Tascam DP-02 has so many useful features that most users are only using a fraction of what it can do. In this training tutorial DVD we go through everything."
"My goal is to make it like you have one on one time on all the features of the Tascam DP-02 and to immediately get you up to speed on the entire product. Why review the whole written user manual when you can get quick up-close visual training on specific subjects?"
It begins with a section called "Recording School" that teaches beginners the basics about microphones, multitrack recording and mixing. It goes on for the next 70 minutes to cover every aspect of recording, editing and mixing on the DP-02 and the DP-02CF 8-track Digital Portastudios.
Whether you have the Hard Disk based DP-02 model or the Compact Flash based DP-02CF model, this DVD goes into great detail helping you get the most out of your digital recording studio.
While an extremely stable portable recorder, the addition of USB connectivity helps make this recorder a bridge between the hardware and software worlds of recording.
David Wills has produced over 50 DVDs in the nearly 20 years since he launched ProAudioDVDs.com. As an Audio Engineer and Consultant for artists such as Michael Jackson, Phil Collins, Earth, Wind & Fire and Diana Ross, David brings real world experience from the pro world but in any easy going conversational style of presentation.
The DVD covers the following...
INTRODUCTION
Welcome
The DP-02 & DP-02CF models
Front Panel Overview
Rear Panel Overview
RECORDING SCHOOL
"What is Multitrack Recording?"
The signal path
Channels vs. Tracks
Recording levels
Setting levels on the DP-02
Microphone placement
Types of Microphones
Phantom power
RECORDING ON THE DP-02
Creating a Song
Naming a Song
Connecting a Microphone
Routing Inputs to Channels
Setting Levels
Arming Tracks
Recording 1st Track
Importance of good Monitors
Using the Guitar (Hi-Z) input
Overdubbing
Linking stereo Channels
Input Effects (DP-02 only)
Punching in
Setting Location points
Bouncing Tracks
EDITING ON THE DP-02
Setting In and Out points
Copy and Paste
Setting To point
Edits
Function Key
Undo/History
Using Bar/Beats Display
Metronome
MIXING
Mute function
EQ
Loop effect
Effect sends
Mixing down your Song (master)
TRANSFERRING TRACKS
Exporting Tracks
Connecting a Computer
Importing Tracks
Burning CDs (DP-02 only)
Backing up
GRADUATION
Click for details about the Tascam DP-02 Training DVD.
About ProAudioDVDs.com
Founded in 1992, ProAudioDVDs.com has produced over 50 training DVDs on the operation of music production equipment. Partnered with industry leaders such as Roland, Tascam, Korg & Zoom, it is celebrating nearly 20 years of being a market leader in product training resources for recording and live musicians.
###