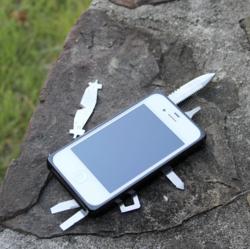 TaskOne is the first iPhone case to integrate all the features of a multi-tool with a convenient and protective shell for your smartphone.
(PRWEB) November 21, 2012
TaskOne is a case for the iPhone 4, 4s or 5 that houses a 2.5" serrated knife, saw, screwdrivers, pliers and ten other tools. The design is the creation of a young engineer from Stanford University, Addison Shelton. "I spend a lot of my day using tools and always wish I had a multi-tool in my pocket, but never carry one due to the size, bulk and inconvenience of a stand alone multi-tool," says Shelton. So one day he decided to design precisely what he was looking for – a multi-tool that he always had but was never an inconvenience. This was how the TaskOne iPhone case was born.
After many months of prototyping, he has created a sleek and functional case design that has been tested on his own and his friends' iPhones in Atlanta, GA. It is a project that he is very excited about. "Due to the large cost of production tooling for the many steel, aluminum and polycarbonate components, I am unable to fully fund the project myself," says Shelton. Therefore Addison has taken the concept and prototypes to Indiegogo.com in an attempt to raise $45,000 in 30 days.
By diligently sticking to his design goals of combining the best features of a multi-tool with the protection and slim fit of a well-designed case, TaskOne bridges the gap between an iPhone case and a multi-tool. "I utilized advanced materials and manufacturing to create a slim multi-tool case that can stand up to heavy use, keep your phone safe and be so slim it adds little more bulk than other common cases," says Shelton. It can be used in any situation requiring a multi-tool, from a camping trip to a home repair – the tools are robust and always stored in the phone case for near instant access. Sliders on the back of the phone make for easy access to the tools, and integrated spring and detents assemblies lock the tools in place both when in use and during storage.
The Indiegogo campaign operates using an "all-or-nothing' funding model so if Shelton's TaskOne project does not reach its funding goal at the end of the 30 day campaign then it may never make it to market. The live campaign can be found via http://www.thetasklab.com. Be sure to check them out on twitter (@TaskLab) and Facebook (http://www.facebook.com/TaskLab), and spread the word to your social media networks. Please consider donating as little as $1 to the project to help TaskOne make it to market. If you consider a larger donation you may be one of the first in the world to own a serious multi-tool iPhone case.