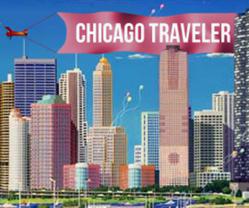 Chicago, Illinois (PRWEB) June 25, 2013
Taste of Chicago is one of the biggest attractions in Chicago. Every year since 1980, Chicago's Grant Park has been the home of culinary sensations and the foodies who can't get enough of them for a few days. This year is going to be another great one with new restaurants, Pop-Ups, food trucks and entertainment drawing everyone to Chicago for a few days in July. There are so many things to do in Chicago this July, and Taste of Chicago is by far the best (and most delicious) of them all.
About Taste of Chicago 2013
35 restaurants make up the Taste of Chicago 2013 lineup, and while many of the restaurants have been part of the lineup for years, there are also a few newbies here for 2013 as well. New restaurants at Taste of Chicago 2013 include Bombay Spice Grill & Wine, a healthy Indian restaurant in River North, FliP Crêpes, serving French creperies in West Side, Lao Ma La, a Chinatown favorite, and Wishbone Restaurant, a Southern restaurant that specializes in breakfast and brunch. There will also be several Pop-Up restaurants who make an appearance at Taste of Chicago for just a day or two. Each night, concert go-ers also enjoy dining at the food trucks, which begin selling food 1 hour before the evening concert starts every night.
Taste of Chicago Live Entertainment
Nearly 30 bands will play on the Bud Light stage at Taste of Chicago 2013. Every day brings a new theme with fun up and coming musicians to some of the biggests artists in the city. Wednesday July 10th is "Sax in the City" A Tribute to Horn Sections. Thursday, July 11th is "Musical Smorgasbord" Day. Friday, July 12th is "We've got the Blues" Day. Saturday, July 13th is "Indie Rock" day and Sunday, July 14th is "Anything Goes" Day. All concerts at this stage are free to enjoy!
Taste of Chicago Petrillo Music Shell will feature even more live music through the festival. Tickets for concert seating at $25, but lawn seating is free. See Delta Spirit and fun. on Wednesday, July 10. Estelle and Robin Thicke are performing Thursday, followed by The Lone Bellow and Robert Plant Presents The Sensational Space Shifters on Friday, July 12. Chloe and Halle and IM5 present a free concert on Saturday, and Maxi Priest and Jill Scott are performing later that day too. The Mowgli's and Neon Trees are finishing off the weekend of entertainment at Taste of Chicago on Sunday, July 14, 2013. Check out all the concerts in Chicago this weekend and thereafter.
Chicago Transportation
Taste of Chicago is located in Grant Park, and getting around in this crowd might prove tricky, especially for out-of-towners. ChicagoTraveler.com recommends staying at one of the Chicago hotels near Grant Park. Many of those are booked up well in advance for this popular weekend though. For those not staying within walking distance, check out all of the Chicago transportation options. Book a car, cab or find out more about public transportation to fully enjoy the Taste of Chicago experience without worrying about parking, and getting to try out all the delicious beers.
Other Things to do in During Taste of Chicago
Taste of Chicago isn't the only thing happening this weekend. It's not even the only foodie festival. Also happening this weekend in Chicago are the Irish Fest Chicago, a fantastic chance to celebrate the Irish heritage through music, dance and delicious food and drink. Don't miss the epic Mashed Potato eating contest, or the men's kilt contest! The Square Roots Festival is also going on this weekend, from Friday through Sunday in Lincoln Square. Celebrate more of the city's food, craft beer, live music by local bands and dance and music classes. This is a great activity for the whole family.
Chicago Food Tours
Coming to Chicago is always a culinary adventure. Many have already tasted the popular places at Taste of Chicago, and are looking for something new and exciting on a trip this time of year. Food tours are a great way to explore much of the city's fantastic cuisine, while also getting out and exploring the city, and allow you to taste all the best places without the crowds.
About ChicagoTraveler.com:
Chicago is one of the top vacation destinations in America famous for their annual events, popular foods, architecture and top sports teams. ChicagoTraveler.com guides travelers to all the best things to do, top places to eat and deals on the best places to stay in Chicago. Lizz Riggs, editor of ChicagoTraveler.com, can help travelers find all the best things to do, places to stay and deals to take advantage of on their next trip.