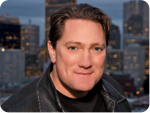 "I am wickedly excited!"
San Francisco, CA (PRWEB) May 13, 2011
Liam Mayclem, the Emmy award-winning host and producer for San Francisco CBS 5 TV's "Eye on The Bay" will host the "Invitation To Foodies" culinary event that debuts on Maui in September. This culinary event benefits three Maui non-profits: the Friends of the Children's Justice Center, Haku Baldwin Center and Ka Lima O Maui.
Liam, born in London to Irish parents, is an Irishman with an English accent.
He has cooked and eaten with the world's most celebrated chefs: Hubert Keller, Jamie Oliver, Marcus Samuelson, Roland Passot, Tyler Florence, Elizabeth Falkner and many more.
Well known for his "Cheap Eats" TV series, Liam loves to find as he puts it, "good nosh for cheap."
And on radio, Liam is the host and chief taster on his new KCBS segment "Foodie Chap" celebrating San Francisco bay area's chefs and winemakers.
The "Invitation To Foodies" culinary event is a 3-day culinary and cultural seminar that explores Hawaii's new farm-to-table movement and the world-class cuisine of Maui's premiere restaurants.
The venue for this culinary event is the Makena Beach and Golf Resort in the exclusive Makena-Wailea community of Maui. The dates of the event are September 2, 3 and 4. There is limited space for this event, prospective attendees should register before June 10.
Participating in this culinary event are Maui's finest chefs: Chef Marc McDowell, Chef Beverly Gannon, Chef Ryan Luckey, Chef James McDonald, Chef Brian Etheridge and others. They will share their passion for Hawaii's new farm-to-table movement through cooking demonstrations, food, wine and dessert tastings, lectures, panel discussions and 5-star gourmet dinners.
Event Information: Invitation To Foodies
Event Customer Service: (866) 613-4438
###