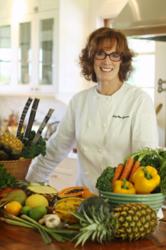 San Francisco, CA (PRWEB) June 05, 2011
It may have started this way: one passerine flying high above a plant-free, uninhabited and unnamed island – in the Pacific, north of the equator – unknowingly drops one seed from a mud-encrusted thigh.
That seed and many others brought to the islands by other birds, animals, people and the wind now feeds the island's residents and visitors. That island is presently called Hawaii.
Ancient Hawaiians were innovative farmers and skilled fisherman whose customs of sharing food amongst their communities lives on today as residents of present-day Hawaii struggle to return to a real food diet.
The State of Hawaii Department of Health recently launched a campaign to educate its residents about the dangers of unhealthy eating habits. The campaign is called "Don't Drink Yourself Fat." The primary focus of the campaign is to educate its residents about the dangers of consuming sugar-sweetened drinks. The campaign promotes the daily intake of fresh, locally grown produce and physical activity.
It is estimated that 100,000 people in Hawaii have diabetes and 25% are undiagnosed. Unmanaged diabetes is associated with numerous health complications and death. Behavioral and genetic factors are causes of diabetes.
It may have started as a revolution to improve the dining experiences in Hawaii for visitors, as well as residents, but the Hawaii Regional Cuisine movement lives on as an economic, political and health campaign championed by its leaders and followers.
Twenty years ago 12 talented chefs met one August day on Maui in 1991 to discuss making changes to the canned and frozen food menu offerings in Hawaii.
By working with ranchers, farmers and fisherman, they inspired systematic changes to what is grown and raised in Hawaii today. Hawaii residents and businesses have picked up the banner and are praising the benefits of eating fresh, locally grown and locally raised food. Eighty-five percent of the food consumed in Hawaii is imported. The movement is evolving.
Subsequently there has been an improvement in the sustainability of food production, distribution and economic and community health in Hawaii.
Chef Beverly Gannon, one of the 12 founding chefs of the Hawaii Regional Cuisine movement, was trained by London's Le Cordon Bleu, Marcella Hazan and Jacques Pepin. She lives on Maui where she has three award-winning and critically-acclaimed restaurants: Hali'imaile General Store, Joe's and Gannon's.
She has received numerous awards for her culinary accomplishments, such as, the 2004 James Beard Award Nominee: Best Chef Hawaii/Pacific Northwest; 2011 Gold Ai'pono Award: Best Hawaiian Regional Cuisine; 2010 Best Chef by Maui's residents and many, many more. She has appeared on NBC's Today Show and The CBS Morning Show and was honored as the 2008 "Woman of Distinction" by the Girl Scouts of Hawaii.
Chef Beverly Gannon will be inducted into the Hawaii Restaurant Association's Hall of Fame on September 19, 2011, to honor her work as one of the 12 founding chefs of the Hawaii Regional Cuisine movement.
The "Invitation To Foodies – A Taste of Hawaii" culinary event celebrates the Hawaii Regional Cuisine movement's 20th Anniversary at the Makena Beach and Golf Resort to pay tribute to Chef Beverly Gannon as a food revolutionary.
Joining Chef Beverly Gannon will be Maui's award winning chefs: Chef Ryan Luckey, Chef James McDonald, Chef Brian Etheridge and renowned guest chefs. They will share their passion for Hawaii's new farm-to-table movement through cooking demonstrations, food, wine and dessert tastings, lectures, panel discussions and 5-star gourmet dinners.
Liam Mayclem, the Emmy award-winning host and producer for San Francisco CBS 5 TV's "Eye on The Bay" will host the "Invitation To Foodies" culinary event. He has cooked and eaten with the world's most celebrated chefs: Hubert Keller, Jamie Oliver, Marcus Samuelson, Roland Passot, Tyler Florence, Elizabeth Falkner and many more.
This culinary event benefits three Maui non-profits: the Friends of the Children's Justice Center, Haku Baldwin Center and Ka Lima O Maui.
Event Information: http://www.invitationtofoodies.com
Event Website: http://www.tastehawaiionline.com
Customer Service: (866) 613-4438
###