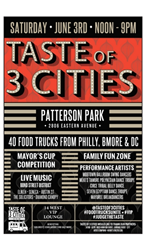 Foodies Unite for a Cause! Join the Food Truck Revolution and Cast Your Vote!
Baltimore, MD (PRWEB) June 02, 2017
DATE: SAT JUN 3
TIME: 12 NOON to 9 PM (VIP & Early Admission 11 AM)
PATTERSON PARK PULASKI MONUMENT
2806 Eastern Avenue Baltimore, MD 21231
http://www.tasteof3cities.com
Voted one of the best festivals in Maryland, The Taste of 3 Cities unites foodies and food truckers for a day to kick back and enjoy a feast like no other in the birthplace of Baltimore's Revolution. It happens only once a year and this time, the lineup is amazing. 40+ Trucks & 3 Stages to hold the largest food truck festival in the mid-Atlantic. This year, guests will be able to get a bird's eye view with helicopter rides over the park throughout the day!
The Food Truck Lineup Includes:
Gypsy Queen - Cap Mac - The Cow and the Curd - Kommie Pig - DC Slices - DC Taco - Fast Bowl - Iced Gems - KBBQ Box - That Cheesecake Truck - Cruisin' Cafe - Grr Che - Captain Cookie and the Milkman - Grr Che - Capital Chicken & Waffles - Mexican on the Run - Midnite Confections - Greek on the Street - Healthy Fool - Dizzy Cow Pizza - Red Hook Lobster - Taco Truck - Sugar Butter Batter - Charming Nomad - London Chippy - Jerk at Nite - Farm to Charm - Maui Wowie - Eat This - Diner on the Go - Foodgitive - Bmore Brulee - Crossroads Bistro - El Gringo - Duck-In - Rita's - Jammin Flava - Beef on the Street - Miss Twist - Deddle's Donuts & Quinn's Ice
Mayor's Cup Competition
Peoples Choice Awards and Prizes
Family Style Dining
Polite People & Pets welcome
14 West VIP Lounge
Kids Ultra Zone
3 Stages of Live Performances by:
SONIC PENTAMETER - SENECA - ELIKEH AFRO POP - AUSTIN 27 - THE SOLICITORS - DIAMOND COPY
featuring BOND STREET DISTRICT with SPECIAL GUESTS
THE REVOLUTION WILL NOT BE TELEVISED: Patterson Park is the site of Battle of Baltimore in the War of 1812 where American Revolutionaries thwarted the British Navy and forced their retreat. Today's trucks are revolutionizing our cities, fighting against the odds of finding a place to park or making it through harsh winters. Baltimore is still battling for food truck freedom against archaic laws that no longer serve the public interest. Taste of 3 Cities is dedicated to supporting the food truck revolution and the fight for food truck freedom. For info about how cities can reform their laws and the benefits food trucks create for their communities, visit http://www.ij.org/vending
COMMUNITY PARTNERSHIP: Taste of 3 Cities will benefit Children's Scholarship Fund of Baltimore. Since 1998 CSFB has provided more than 7,500 scholarships to children in over 100 schools in and around Baltimore City. To this day, CSFB has funded over $14 million in scholarships. CFSB's impact is far-reaching and making a real difference in peoples lives. Donate directly here: https://csfbaltimore.org/donate-now/
14 WEST VIP LOUNGE PROVIDES SOME STRESS RELIEF!
14 West holds the key to compelling, competitive businesses.
Comprised of Personnel & Talent, Legal, Financial, Global Technologies, Information Security, Communications, Marketing, Operations, and Management experts, 14 West offers businesses the services of seasoned administrative professionals. While we ensure the well-being of their workplace, they focus on growing their enterprises through new ideas.In other words, For more info: 14west.us or westword.14west.us
Advance Tickets $15/$20 solo adv/gate | $39/45 FAMILY adv/gate | $65/$75 VIP
CHILDREN 12 and UNDER FREE
FAMILY TIX INCLUDE KIDS FOOD TRUCK LUNCH
For tickets, http://www.tasteof3cities.eventbrite.com
For more info: http://www.tasteof3cities.com