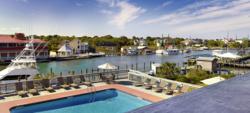 Charleston, SC (PRWEB) August 07, 2012
The 32nd Annual Southern Living Taste of Charleston event returns to the historic city at the end of September. Join this well-renowned magazine for three days of food and beverage tasting in one of the prettiest cities of the south.
The event begins on Friday, September 28, at 6:00 pm with a great activity taking place at the Culinary Institute of Charleston's Palmer Campus. Come watch some of the best chefs duke it out for the title of Iron Chef in the state-of-the-art amphitheater kitchen. Tickets can be found online and range from $50 to $100.
Also on Friday evening and continuing on Saturday evening from 6pm until 10pm, dozens of restaurants in the Charleston area will participate in the event titled "Dine In" where they will each have a designated three course menu and every course will be paired with a specialty or craft beer choice. Restaurant names and menus will be revealed as the event draws closer. No tickets are necessary for this event.
Saturday evening will showcase a new event at the historic Shem Creek Lighthouse. From 6pm until 11pm, guests can enjoy the sweet sounds from a list of singers and songwriters while being treated to a lowcountry cuisine from various caterers in the area. This event called "Sweet and Southern" is sure to live up to its name. Tickets for this event can be purchased online for $50. Shem Creek is also home to Shem Creek Inn, one of the top-rated Charleston hotels and would be perfect for accommodating those traveling from out of town.
On Sunday, September 30, from 10:30 am until 5pm, the main event takes place at the Boone Hall Plantation in the Mt. Pleasant area of Charleston. Fifty restaurants from the area will come together to present their most prized dishes in sample sizes along with activities such as the waiter's wine race, live music, and children's area. A beer tent will be set up with specialty and imported beer tastings available and a Southern Living tent will also have on-site demonstrations and food tastings. Tickets for this event can also be bought online and are $15 each with children under 10 being free.
For more information on this event visit http://www.southernliving.com.