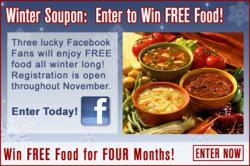 great opportunity for participants to try some different cuisines, especially with the variety of gourmet soups we offer
Omaha, NE (PRWEB) November 01, 2011
Taste Traditions of Omaha, a global food manufacturer, launched a nationwide sweepstakes on Facebook where participants can register to win free food for four (4) months starting December 1, 2011 until March 31, 2012. The registration period will run throughout the month of November. Three (3) winners will be randomly selected on November 30, 2011. Each winner will be able to choose up to 4 cuisines per month from the Taste Traditions online shop: http://www.TasteTraditions.com/Shop.
The online shopping site just recently launched this past August with 23 gourmet cuisines. The menu features a variety of Mexican entrees and sides, premium pasta dishes, and 17 different varieties of gourmet soups. "With cooler weather upon us, we thought this would be a great opportunity for participants to try some different cuisines, especially with the variety of gourmet soups we offer." said Kelly Heavican, Taste Traditions Marketing Manager. She adds, "Winners are not limited to certain items, they can pick any four cuisines from the menu each month, with the exception of the bundled packages."
Signature Items Include:

Beef and Chicken Enchiladas
Gourmet Macaroni and Cheese
Chicken Noodle Soup
Cream of Broccoli with Cheese Soup
Cheddar Baked Potato Soup
And So Many More!
Taste Traditions gourmet cuisines are packaged frozen and shipped throughout the U.S. All cuisines with the exception of the enchiladas (individually wrapped) are boil-in-bag. Boil-in-bag cuisines are easy to prepare over the stove top, and even easier to clean up. All cuisines are full strength, made with high quality ingredients, ready to heat and serve!
For more information about the sweepstakes and for complete rules and regulations, please visit http://www.Facebook.com/TasteTraditions.
ABOUT TASTE TRADITIONS
Taste Traditions of Omaha is a privately-owned global food manufacturer headquartered in Omaha, Nebraska. For more than 35 years, the company has manufactured premium, restaurant-quality frozen foods. Taste Traditions' customers include broadline distributors, convenience stores, grocery stores, delis and large institutions including the U.S. Department of Defense. For more information on Taste Traditions, visit TasteTraditions.com.
# # #