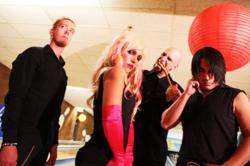 Milano's signature look shines through in vibrant stage attire, slinky dance moves, and a 'rocker chick meets pop princess' attitude."
Red Bank, NJ (PRWEB) February 21, 2012
New Jersey-based pop rock band Tasting Grace is making its way to radio stations across the U.S. In a surprise move, and outside of the industry standard, this indie band released a new single, a pop song, titled "In Love with a DJ". This was a bold move considering the band is best known for their melodic, mood driven force of rock and just released their latest EP, Alter Ego, in November 2010.
"The industry is so upside down right now," says Jenna Grace Milano, lead singer and songwriter for Tasting Grace. "Our fans are very supportive and we sensed the timing was right to give them something new given the back drop of the industry. This song is very different than our other material, but stays true to the telling of stories between two forces, in this case 'pop versus rock' as opposed to 'good versus evil' fans are accustomed to seeing in our live performance."
Milano says 'In Love with a DJ' is about a pathetic crush, a fantasy love. "It happens every day," says Milano. "Think heart throb. How many people fall in love with celebrities and when they see them on TV or in concert they go crazy? Tears of joy are mixed with feelings of disappointment knowing that celebrity will never give them the time of day because, let's face it, no celebrity will date a meager person who isn't on their level," continues Milano. "I know it's unfortunate but they don't care if it's make believe because loving the celebrity makes their heart skip a beat, even their voice is enough to drive them crazy, and somehow in their own twisted fantasy they might even think they love you back!" 'In Love with a DJ' has an upbeat tempo and synthesizers throughout making it very much a pop song but its guitar riffs and heavy drums quickly remind you that Tasting Grace has not abandoned its rock roots! "The beautiful thing about music is that it has no boundaries or rules", says Vince Richards, President of Udjat Records and Manager of Tasting Grace. "This has been an interesting experience, and a fun one," says Richards. "I recognize the industry only gets tougher for indie bands trying to break through radio but great music still has room in today's ever-changing climate, regardless of genre."
With a twisted combination of No Doubt and P!NK's stage persona matched with a Madonna-like sensuality and grit, the dynamic of this group is palpable. Tasting Grace is fronted by singer/songwriter Jenna Grace Milano, "the hot blonde with a very strong and powerful voice that can definitely hold a candle to singer Amy Lee (Evanescence)," according to Aquarian Weekly. Milano's signature look shines through in vibrant stage attire, slinky dance moves, and a "rocker chick meets pop princess" attitude. When Miss Milano was asked how to describe her image and style she replied, "Someone once called me their 'Little Diva Rock Star Girl' and I was like 'YES, that's it'!"
Tasting Grace was born in 2006 when singer Milano and guitarist Drew Leeds were placed in each others path and their musical talent and chemistry quickly inspired them to pursue the journey together. Both Milano and Leeds are Rockers at heart, but Jenna brought a whole new dimension to the band with her love of fashion, glamour and pop culture! Together they set out to prove they could successfully and creatively merge good old-fashioned rock n' roll with the glitz and glam of modern day pop! By 2009 the band was finally complete and the four members were ready to rock the world inside out! In a short period of time the band has accomplished what it takes most bands years to do.
Led by Jenna Grace Milano (singer, guitar, violin), the band is also comprised of Drew Leeds (lead guitar, synth), Johnny Rox (drums), and Willy Toledo (bass).
For more information on Tasting Grace please visit http://tiny.cc/r1fss
###