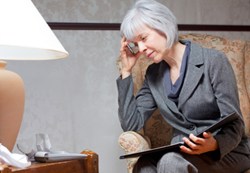 Stress that's left unchecked can contribute to health problems such as high blood pressure, heart disease, obesity and diabetes.
Salt Lake City, Utah (PRWEB) May 31, 2013
Registered Dietitian and Founder of Tatalou Science Nathalie Chevreau, PhD, R.D., published an article today on Tatalou.com warning of the harmful effects of stress to a person's health, as well as three tips to reduce stress.
The article, titled "3 Ways to Kill Stress Before It Kills You," highlights the importance of simplifying an over-complicated life, the truth about the limits of the human body, and the critical role exercise plays in reducing stress.
"Life is full of beautiful moments," said Chevreau. "Sometimes we get bogged down with unfortunate circumstances or what feels like loss of control. This causes unnecessary stress on the body and mind and we need to find active ways to reduce this stress before it affects our health."
At the right levels, stress can be beneficial. In fact, a recent study conducted by the University of Southern California and reported on Time.com showed that good habits (as well as bad) as more likely to stick when formed during times of stress. However, the Mayo Clinic warns of the negative impact of stress.
"Stress that's left unchecked," reads an article written by Mayo Clinic staff, "can contribute to health problems such as high blood pressure, heart disease, obesity and diabetes."
Interestingly, stress also causes lower productivity, sleep problems and shortness of breath, all of which could contribute to even greater levels of stress.
"Unfortunately, stress can create a downward spiral," said Chevreau. "Fortunately, there are ways to reduce stress, and that should be our goal: Don't let stress get the best of us. Of course, when the task at hand becomes overwhelming, professional help is there to assist."
Chevreau's company, Tatalou Science, offers natural health supplements designed specifically for women. One of the products, Bene-Fiit, helps women lose weight while providing increased energy and less craving. Tatalou's other product, Brain Clarity, is designed specifically for women experiencing a lack of clarity or memory lapses.
About Tatalou Science
Tatalou Science was founded by Nathalie Chevreau as a natural health company with a simple, but profound, philosophy: Women are physiologically different than men with unique strengths and sensitivities. Nathalie earned her PhD in Chemistry at the University of Bordeaux, then completed her postdoctoral fellowship at Cornell University. She also has a Master's degree in Foods and Nutrition from the University of Utah. She is a Registered Dietitian and continues to work in various capacities, counseling women on weight loss and preventive health. As an adjunct professor in the Division of Foods & Nutrition at the University of Utah, Nathalie presents lectures to medical students and residents as well as students in the master's program. She has published several articles and presented research findings at numerous national and international conferences. Learn more at Tatalou.com.
*These statements have not been evaluated by the Food and Drug Administration. These products are not intended to diagnose, treat, cure or prevent any disease.