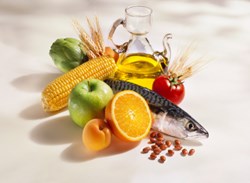 Growing old is a privilege not everyone enjoys. We just need to practice
better nutrition as we age.
Salt Lake City, Utah (PRWEB) May 13, 2013
Registered Dietitian and Founder of Tatalou Science Nathalie Chevreau, PhD, R.D., published an article today on Tatalou.com outlining nutrition tips for boomer- and senior-aged women.
The article, titled "7 Healthy Eating Tips for Women Over 50," offers advice for specific scenarios, including work and parties, as well as general advice. She also outlines the most healthy sequence for eating a meal.
"Too often our society views growing old as thing to be feared," said Chevreau. "The truth is, growing old is a privilege not everyone enjoys. We just need to practice better nutrition as we age."
A few of Chevreau's tips include how to stay properly hydrated and why to avoid sugary drinks at all costs. She also generally cautions against sugarless, but sweetened products with one exception: chewing gum, which can help curb cravings after a meal.
"The key is to be healthier today than you were yesterday," said Chevreau. "Women over 50 have entered a great time in their lives. It's time to live well."
Chevreau's company, Tatalou Science, offers natural health supplements designed specifically for women. One of the products, Bene-Fiit, helps women lose weight while providing increased energy and less craving. Tatalou's other product is Brain Clarity, which Chevreau recommends for women experiencing a lack of clarity or memory lapses.
About Tatalou Science
Tatalou Science was founded by Nathalie Chevreau as a natural health company with a simple, but profound, philosophy: Women are physiologically different than men with unique strengths and sensitivities. Nathalie earned her PhD in Chemistry at the University of Bordeaux, then completed her postdoctoral fellowship at Cornell University. She also has a Master's degree in Foods and Nutrition from the University of Utah. She is a Registered Dietitian and continues to work in various capacities, counseling women on weight loss and preventive health. As an adjunct professor in the Division of Foods & Nutrition at the University of Utah, Nathalie presents lectures to medical students and residents as well as students in the master's program. She has published several articles and presented research findings at numerous national and international conferences. Learn more at Tatalou.com.

These statements have not been evaluated by the Food and Drug Administration. These products are not intended to diagnose, treat, cure or prevent any disease.