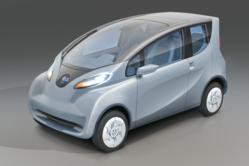 The eMO project symbolizes the coming of age of Indian automotive engineering ... It is a tangible example of the capability of Tata Technologies to engineer a full vehicle ...
Novi, Mich. (PRWEB) August 31, 2012
Tata Technologies, a leading global provider of engineering services and product development IT, will display its electric MObility (eMO) engineering study EV in the lobby of its North American headquarters facility in Novi, Mich., throughout the month of September. eMO made its world debut at the North American International Auto Show (NAIAS), in Detroit, in January and was again displayed at the SAE 2012 World Congress, in Detroit, in April.
"The eMO project symbolizes the coming of age of Indian automotive engineering," said Warren Harris, Tata Technologies President and Global COO said at its NAIAS debut. "It is a tangible example of the capability of Tata Technologies to engineer a full vehicle – a first for any India-based engineering services company."
Harris noted that the unique strength of Tata Technologies is the organization's global reach. "Because we are India-based, Tata Technologies is intimately familiar with developing markets. Additionally, our experience and presence in Europe and North America means we also have an understanding of developed markets; a combination that provides a competitive advantage to our clients," he said.
Tata Technologies' Vehicle Programs & Development (VPD) Group, with more than 300 engineers operating from its four automotive engineering centers of excellence worldwide – Pune (India), Detroit, Coventry (UK), and Stuttgart (Germany) – had the responsibility of developing eMO. The vehicle is an internal engineering study that highlights both the Tata Technologies dedication to environmental responsibility and sustainability, and showcases the company's global experience, knowledge, capacity and innovation capabilities.
eMO has been displayed throughout the spring and summer at various metro Detroit university campuses including an appearance at Oakland University, in Auburn Hills, Mich., at a joint presentation by the University of Michigan Transportation Research Institute and the Oakland University School of Business; and the Designer's Café event at Lawrence Technological University in Southfield, Mich.
The eMO architecture emphasizes "right size" personal urban transportation by minimizing its exterior footprint and maximizing interior space; including seating for four adults. The business case underpinning the eMO project sets the MSRP at the disruptive price point of $20,000, before federal tax incentives or rebates.
University representatives or media members interested in arranging a visit to view the eMO at the Tata Technologies North American Headquarters during the month of September can contact Daniel Saad, Corporate Communications Director NA.
eMO is scheduled to appear in October at CIMdata PLM Road Map™ 2012 in Plymouth, Mich.; and in November at the Plastics News Plastics in Lightweight Vehicles 2012 conference.
Learn more about eMO and Tata Technologies: http://www.tatatechnologies.com/global/vpd/emo.html
About Tata Technologies
Tata Technologies, founded in 1989, is a global leader in Engineering Services Outsourcing and Product Development IT services to the global manufacturing industry; enabling ambitious manufacturing companies to design and build better products.
Tata Technologies is a company of innovators, specialists in the design engineering space, who apply cutting-edge technology to provide a competitive advantage to customers in the manufacturing sector. The company is a strategic partner for developing complete vehicles (VPD group), engineering subsystems and components (E&D), managing the NPI process and collaborative engineering (PLM), and tying together information created and used throughout the extended manufacturing enterprise (ESG).
Tata Technologies is headquartered in Singapore, with regional headquarters offices in the United States (Novi, Michigan), India (Pune) and the UK (Coventry). The company has a combined global work force of more than 5,600 employees serving clients worldwide from facilities in North America, Europe and the Asia-Pacific region. http://www.tatatechnologies.com
Contacts:
Kevin Fisher – President, Vehicle Programs and Development
P: +1.248.760.3394
kevin(dot)fisher(at)tatatechnologies(dot)com
Daniel Saad – Tata Technologies Director of Communications – NA
P: +1.248.225.8831
E: daniel(dot)saad(at)tatatechnologies(dot)com