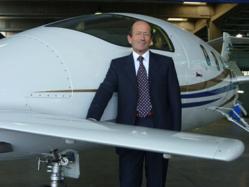 We are confident that Tata Technologies' highly skilled and talented resource pool will help us rapidly scale towards meeting our ambitious program targets. (Eligio Trombetta)
Pune, India (PRWEB) February 13, 2013
Tata Technologies, a leading global provider of engineering services and product development IT, announced that it has won a multi-year engineering services contract from Piaggio Aero Industries, the oldest aircraft manufacturer in Italy and a pioneer in aviation. Tata Technologies will deliver a complete structural design and analysis solution for the aviation major's new Multirole Patrol Aircraft (MPA). Tata Technologies and its joint venture with Hindustan Aeronautics Ltd (HAL), TATA HAL Technologies Ltd., will deliver on this esteemed engagement. This is one of the first of its kind engineering services collaboration in the private aerospace sector in India.
Tata HAL Technologies will deliver end-to-end optimized structural design, engineering, manufacturing, and certification documents for the aircraft fuselage inclusive of the vertical fin in two separate phases. Piaggio Aero's Multirole Patrol Aircraft (MPA) is the evolution of the company's P180 Avanti II multi-utility aircraft, which is newly designed to make it uniquely capable of surveillance, law enforcement and security missions. The MPA's main features include an enhanced airframe, increased maximum take-off weight, additional fuel tanks and a new aerodynamic configuration and a reinforced wing providing an increased surface and higher aspect ratio.
On this occasion, Mr. Eligio Trombetta, General Manager, Piaggio Aero Industries was quoted saying "With the MPA, we were looking at meeting the market need for a robust technological solution for land, coastal, maritime and offshore security. We are confident that Tata Technologies' highly skilled and talented resource pool will help us rapidly scale towards meeting our ambitious program targets."
"Engineering the new MPA aircraft requires the ability to meet stringent weight targets in an aggressive timeline for design modifications. We believe Tata Technologies' competency in aero-structures design coupled with close collaboration with our own engineers will ensure high quality and timely delivery," Mr Trombetta added.
Mr. Samir Yajnik, President Global Services & COO Asia-Pacific, Tata Technologies said; "We are delighted to have won this prestigious mandate to work for Piaggio Aero, a leading player in the global aviation industry. We are a company of passionate engineers and are excited about this engagement where we will deliver an end-to-end solution leveraging our Global Engagement Model for providing transformational engineering services. I am confident of meeting all expectations set upon us and look forward towards a long-term relationship with Piaggio Aero."
About Tata Technologies
Tata Technologies, founded in 1989, enables ambitious manufacturing companies to design and build better products through engineering services outsourcing and the application of information technology to product development and manufacturing enterprise processes. With over 6,000 engineers, representing 17 nationalities we focus on the manufacturing industry – covering every aspect of the value chain from concept to recycling. We support these clients through comprehensive engineering services and IT processes and tools to manage product development and the complete manufacturing ecosystem.
Tata Technologies serves clients in 25 countries, with a delivery model specifically designed for engineering and IT engagements that offers a unique blend of deep, local expertise integrated with our six global delivery centers, Detroit (USA), Coventry (UK), Pune & Bangalore (India), Stuttgart (Germany), and Bangkok (Thailand). The international headquarters is located in Singapore. http://www.tatatechnologies.com.
About Piaggio Aero Industries
Piaggio Aero Industries S.p.A. is active in aircraft design, manufacturing, maintenance and overhaul. The company also manufactures Aero-Engines parts and maintains, repairs and overhauls engines under license. Piaggio Aero has facilities in Genoa, Finale Ligure, Italy and a subsidiary covering the Americas in West Palm Beach, FL, U.S.A. (Piaggio America, Inc.) Piaggio Aero's shareholder structure is composed of: Tata Limited, a British company, part of the Indian Tata Group, Mubadala Aerospace, the development and investment company driving the economic diversification of Abu Dhabi, and the Italian Ferrari and Di Mase families.
http://www.piaggioaero.com
For more details contact:
Tata Technologies
Siddhartha Bortamuli, AVP, Marketing Communications
Email: siddhartha(dot)bortamuli(at)tatatechnologies(dot)com
Contact No: +91 20 6652 9044
Rediffusion / Edelman
Harry Pinto, Account Manager, Bangalore
Email: harry(dot)pinto(at)edelman(dot)com
Mobile: +91 9731901188
Piaggio Aero Industries S.p.A.
Enrico Sgarbi, Head of Communications
Email: esgarbi(at)piaggioaero(dot)it
Mobile: +39 335 7431073