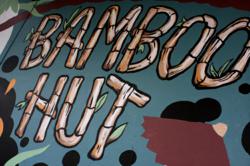 Tattoo Boogaloo and the Bamboo Hut have an outstanding relationship... One of the bartenders from the Bamboo Hut (Mimi) always combines the names of the two companies and calls us The Bamboogaloo Hut
San Francisco, CA (PRWEB) December 08, 2011
San Francisco tattoo artists from Tattoo Boogaloo are creating a mural painting on the outside of the Bamboo Hut, a Tiki bar located at 479 Broadway in North Beach. Tattoo Artist Deanna Wardin designed the image for the mural which is currently being painted by Wardin, Chris Henry and Kyle Porter, all from Tattoo Boogaloo.
The outside of the front door has been painted and eventually the inside of the door, as well as the sign that displays Bamboo Hut's hours, will also be repainted. The old signage was beaten and weathered and the mural will provide a face lift for not only the Bamboo Hut but Broadway as well.
"Tattoo Boogaloo and the Bamboo Hut have an outstanding relationship... One of the bartenders from the Bamboo Hut (Mimi) always combines the names of the two companies and calls us The Bamboogaloo Hut," says Mez Love of Tattoo Boogaloo.
This is the first mural for members of Tattoo Boogaloo, although they would be more than happy to continue to paint on such a scale. A relative newcomer to San Francisco's tattoo and piercing landscape, Tattoo Boogaloo opened in July of 2010, quickly making a splash at its North Beach location. Within months, it established a reputation amongst the community by providing unique tattoos and body piercings.
If anyone is interested in mural work, they can contact Deanna Wardin directly at graphic(dot)ward(at)gmail(dot)com. For more information on Tattoo Boogaloo, call 415-391-1053 or visit them online at http://www.tattooboogaloo-sf.com. Tattoo Boogaloo is located at 528 Green Street San Francisco, CA 94133.
About Tattoo Boogaloo
Tattoo Boogaloo is a tattoo and piercing parlor located in the North Beach district of San Francisco. It offers custom designs and amazing artwork from scripting to portraits, intricate designs and piercings. After opening the shop in 2010, its artists quickly established Tattoo Boogaloo as the premier tattoo and piercing shop in the area and were awarded the "Best Tattoo & Piercing Parlors" award in San Francisco by City's Best, an online city guide site.
###