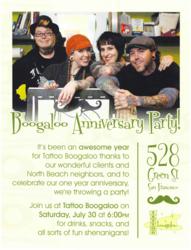 It has been an awesome year for Tattoo Boogaloo thanks to our wonderful clients and North Beach neighbors
San Francisco, CA (PRWEB) July 23, 2011
After a great year in business, Tattoo Boogaloo San Francisco body art will be throwing a first anniversary party on July 30.
"It has been an awesome year for Tattoo Boogaloo thanks to our wonderful clients and North Beach neighbors," said Mez Love of Tattoo Boogaloo. "And to celebrate our one-year anniversary, we're throwing a party! Join us at Tattoo Boogaloo on Saturday, July 30 at 6 p.m. for drinks, snacks and all sorts of fun shenanigans."
On the same evening of the party, Tattoo Boogaloo will showcase an art show with featured pieces from their talented artists Mez Love, Chris Henry, Katie Grinstead and Deanna Wardin. Following the conclusion of the night's events, the art will be displayed for three months.
"Not only is the anniversary party going to be a great way to familiarize yourself with the artists at Tattoo Boogaloo San Francisco piercings, it will also be a relaxing way to gather with community members," Love added. "For those who are new to the art world, this would be a great time to view a small gallery and the shop to ask questions and establish relationships for future networking."
The party is open to the public, so everyone is welcome. The party starts at 6 p.m. but will go on for as long as everyone is willing to party.
For more information on Tattoo Boogalo, call them at (415) 391-1053. Visit them on the web at http://www.tattooboogaloo.com or find Tattoo Boogalo on Facebook. They are located at 528 Green Street, San Francisco, CA 94133.
About Tattoo Boogalo
Tattoo Boogaloo is located in the heart of historic North Beach in San Francisco. They accept walk-ins for tattoos and piercings, and are available for consultations for all future body art. Tattoo Boogaloo has been voted AOL City's Best tattoo shop in San Francisco for 2010–2011.
###