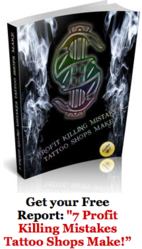 If you're a good Tattoo Artist, there is no reason not to be making 6 figures a year!
Miami, FL (PRWEB) July 29, 2011
TattooSupplies.com has successfully launched online and not only offers Tattoo Artists quality ink and supplies at affordable prices, but has set out to help make artists successful in business as well. With the popularity of Tattoo artistry and the TV show Inked and the higher profile visibility of tattooed enthusiasts such as Angelina Jolie and Kat Von D, many people are considering the option of going into business as a Tattoo Artist and opening their own shop.
Tattoo Supplies has made it their mission to help Tattoo Artists become successful. They give away a free report titled "7 Profit Killing Mistakes Tattoo Shops Make!" They not only show tattoo artists how to save money on tattoo supplies but how to market themselves and their shops.
So what are the top 7 profit killing mistakes tattoo shops make?
1) Not choosing the right domain name to give them a distinct advantage in the search engines.
2) Not incorporating a decisive and strong mobile marketing campaign such as creating a "text marketing" list so they can market to customers right to their cell phones.
3) Having a website that is not search engine optimized to show up at the top of Google for the main keywords "city name tattoo shop."
4) Settling for only one listing on page one of Google. You should have at least 2 listings in Google such as your website and a video.
5) Not using social media to engage potential customers as well as find new customers while building great reputation at the same time.
6) Failing to build an email and text based list of customers.
7) Missing out on cross promotion through joint ventures with other similar businesses.
The free report goes into detail on each mistake and is available at the website on right hand side.
When people are thinking about tattooing for a living, they often don't realize the preparation and dedication that are required to make the art a business. Tattooing can be fun and some artists are known by their specific styles, but it can also be dangerous if not practiced with the right tattoo supplies and in the proper environment.
You can also go broke by not knowing how to properly market your tattoo business. This is where TattooSupplies.com comes in with not only showing artist how to save money on tattoo supplies but also how to market their business.
Tattoo Supplies differentiates itself by organizing professional tattoo supplies sold on eBay into all the different product categories. This ensures tattoo artist always get the best deal on brand name products at the lowest prices!
Many tattoo artist think that you have to buy brand name equipment from the distributors website but those same distributors also sell their products on eBay at lower prices.
For more information and to download the free report, visit http://www.TattooSupplies.com or on Facebook at http://www.Facebook.com/tattoomarketing.
###