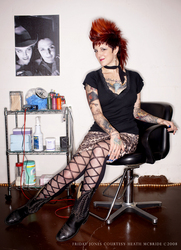 I love the peace and philosophical approach we can enjoy in the privacy of the tattoo couture studio - that's the real motivation behind the concept
New York City, NY (PRWEB) July 13, 2009
Denver, Colorado based company, Flash2xs.com, LLC -- pioneer and leader in the 'tattoo-friendly' single tattoo design sales model through their TattooFinder.com website - will be joining and supporting one of their top artists, Friday Jones for the opening of her new tattoo studio, Friday Jones Fifth Ave (at Senses NYC Salon) on July 14, 2009. Friday's 'Tattoo Couture Studio' will bring clients the ultimate tattoo experience that combines luxury and personal care with the artistry and design that comes with getting inked by a specialized tattoo artist.
Lou Bardach, CEO at Flash2xs.com, LLC, and Friday Jones coined the term "Tattoo Couture" through the writing of the Tattoo Sourcebook (by the Editors at TattooFinder.com, HarperCollins). While TattooFinder.com has primarily used the term as part of a framework for their customers in getting tattooed (Three Approaches to Getting Tattooed: Tattoo Couture), Friday brings the concept into her tattooing and as a principle of how her new studio operates.
Friday Jones focuses on providing an experience that brings together fine art, excellent craftsmanship, and a serene spa environment. Starting with a one-on-one consultation, by appointment or referral, clients have their tattoo vision realized with Friday's guidance. A follow-up art design approval session is next, where Friday fine-tunes the art with additional detailing from the client. Finally, clients relax with a massage, manicure/pedicure or any of the salon's services, before having Friday translate the art onto skin.
"I love the peace and philosophical approach we can enjoy in the privacy of the tattoo couture studio - that's the real motivation behind the concept," says Friday Jones. "It's simply another evolutionary turn of a truly ancient art, where the human directive to honor and beautify itself takes many forms. I'm so happy to be practicing this perennial craft in one of the most significant marketplaces imaginable."
Also debuting at the studio launch will be Friday Jones Wholesome Tattoo Care, advanced nourishing skin care products specifically created for the tattoo industry. In conjunction with Ned Jenson of MBI Nutraceuticals, Friday has formulated four new products that cover many of the problems and care issues associated with tattoo application and care: 1) Tattoo Soothe - a natural homeopathic gel that relieves much of the pain and aids in the cleansing of the skin prior to and during the tattoo application, 2) Tattoo Protect - a "first line" natural answer to the use of petroleum jelly for protecting the tattoo after application, 3) Tattoo Heal - a cream that promotes healing, relieves itching and prevents scabbing during the tattoo healing process, and 4) Tattoo Nourish - a complete vitamin capsule to be taken orally which contains the essential vitamins and minerals necessary for beautiful skin.
"Aside from being one of our very popular flash artists, we have worked with Friday in a number of fun and creative ways," says Bardach. "Friday is always on the cutting edge of the tattoo industry, and extremely customer focused. Naturally, a personality like this works really well with us. I'm excited to be joining her for the opening of her new studio and the launch of her product line. Personally, I wish her the best success (and perhaps she'll consider giving me another round of ink!)."
TattooFinder.com is division of Flash2xs.com, LLC, an Internet-based company located in Denver, Colorado, owned by Lou Bardach, Rachael Bardach, and Brett O'Connor. Lou and Brett have worked in the Internet applications development, graphic design, and online marketing fields since the mid-1990s and Rachael has been tattooing since 1991. The TattooFinder.com website was launched in January 2003, and members of this team have been selling tattoo flash since the early 1990s.
# # #