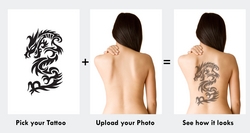 Some people are even tattooing photos of their pets and cars.
Portola Valley, CA (PRWEB) April 27, 2010
There is nothing worse than having a bad tattoo permanently embedded into the skin. The good news is there is a free new website, Tatmash.com, that let's anyone virtually try on a tattoo before going under the tattooist needle. The old way was to choose a tattoo design and have no idea how it would look until the skin had healed. People can now use TatMash to put a tattoo on their photo and try out numerous tattoo ideas in different body placements before permanently inking their bodies. What makes virtual tattooing so useful is that people can painlessly change their mind.
"We're finding people are using our services like a fitting room in a clothing store." says Bob Nebrig, founder of Tatmash.com. "They don't focus on one tattoo idea anymore but are dabbling with many different designs. Tatmash is trying to make this easier by having a library of thousands of tattoos and by making the process simple enough for anyone to use. At Tatmash.com, pick a tattoo from the library or use your own design. Upload your photo. Place the tattoo on the photo and Tatmash will make it look like ink under your skin."
"We're also finding that people who would never get a tattoo make tattooed pictures to share with friends for fun and a good laugh." says Nebrig. "Some people are even tattooing photos of their pets and cars."
So test drive a tattoo before heading down to the tattoo shop or make a tattooed photo for fun. What's there to lose? It's free.
Tatmash was founded in 2010 in order to provide an easy way for people to try on their tattoo ideas before inking their body.
###