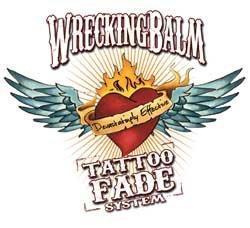 With so many celebrities opting for tattoo removal this seems to be a perfect fit for the gift lounge
Falmouth, ME (PRWEB) February 23, 2011
It's awards season and that means red carpets, gowns, parties and gift lounges filled with lots of swag for Hollywood's biggest stars. WreckingBalm® Tattoo Removal system has landed a spot in the WOW! Creations celebrity gift lounge to be held in Beverly Hills.
WOW! Creations will be producing the Oscars Gifting Lounge on Rodeo Drive during Oscar Week. The Gift Lounge will be taking place in the Penthouse of the Luxe Hotel on Rodeo Drive in Beverly Hills on Thursday, February 24th 2011.
Preval® Health, the parent company to WreckingBalm® contributed 100 gift bags after the Oscars' party planners discovered the popular at home tattoo removal treatment online. Each gift bag will include a 2 month supply of WreckingBalm®.
WreckingBalm® the first in-home FDA approved hand held device for fading or removing unwanted tattoos. Discovered and formulated by two laboratories in over two-and-a-half years with a team of specialists, Doc Wilson has produced a simple process that just takes 3 minutes every other day. This unique system safely combines three technologies and two simple methods of skin exfoliation and removal. The first uses an FDA-approved mechanical hand-held medical device that gently, but effectively, removes the upper layers of the epidermis (outer skin layer). The second step uses a chemical serum that penetrates deep into the underlying lower layers, breaking up the cellular matrix in which the ink pigments are embedded.
"It's amazing exposure," says Joan Crocker Social Media Manager, Preval® Health. "We'll get a picture of the gift bag sent to us so we can use it for our website, PR and marketing. With so many celebrities opting for tattoo removal this seems to be a perfect fit for the gift lounge."
Preval® Health, the parent company, is recognized as a progressive leader in specialty niche marketing and the maker of category leading health products sold in national retail pharmacy chains such as Walmart, CVS®, Walgreens®, online, and Direct Response. For more information about the company please visit http://www.prevalhealth.com.
Incorporated in 1999, Preval® Health is based in Maine with headquarters in Portland.
###