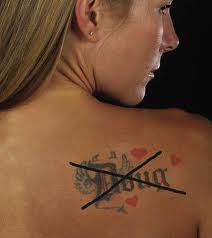 I loved my tattoo when I first got it, but now it's simply an embarrassment
Hamden, CT (PRWEB) April 17, 2012
Dr. Jeffrey Gold now offers state of the art laser tattoo removal. With the increase in popularity of tattoos in the last decade among all age groups, the desire for a good solution for tattoo removal has also risen.
The Regret Factor
In the United States, a Harris Poll done in 2008 revealed that 15-20% of people with tattoos regretted having had them done. 20% felt they were just too young when they had them done; 20% didn't like the permanence and the feeling they were "marked for life"; and 18% just no longer liked them. So as these people got a little older and their lives changed, they felt embarrassed. There were also such motivations as a new job, problems with clothes or a significant event such as marriage, divorce and children.
Are Tattoos Really Permanent?
Various methods have been used over the years and tattoos are no longer considered permanent. However, removal is much more expensive and painful than the initial tattoo. People have tried dermabrasion, scrubbing the skin with salt, freezing, and surgical excision with or without skin grafts. All of these methods have shown varying success rates.
Using Lasers
The laser was first tried for tattoo removal in the 1990s and has come a long way since then. Typically darker ink colors are easier to remove and yellows, greens and fluorescent inks are more challenging to treat.
The laser energy breaks down the particles of ink into microscopic size particles, which are then picked up by the body's scavenger cells and removed from the body.
How Many Treatments Does it Take?
Multiple treatment sessions are required for complete tattoo removal. The average is 10 treatments, and the range is from 3 to 20. The best spacing between treatments is at least eight weeks. This allows the body to remove the smallest particles first, allowing the tattoo to lighten. At subsequent treatments, the larger particles are targeted and as time passes the tattoo will progressively lighten.
The number of treatments can be estimated before a tattoo removal program is begun, but because of everyone's unique biological makeup, it is an estimate only. For this estimate Dr. Gold will use the Kirby-Desai score, which takes into account several factors and gives the doctor the ability to predict the number of treatments with about 80% accuracy.
How Much Does it Hurt?
People have varying tolerance to pain. Most patients who have had tattoos, followed by removal, report that removal is more painful than the initial procedure. Some patients have described the sensation as the same as getting hot specks of cooking grease splashed on the skin or like a severe rubber band snap. Gold recommends taking two Extra-Strength Rapid-ReleaseTylenol thirty minutes before your appointment. He also applies anesthetic gel to the area to be treated. Aspirin or ibuprofen should be avoided because they can act as blood thinners and lead to unsightly bruising.
What Happens After the Treatment?
Each spot treated may show slight elevation with white discoloration. There may be pin-point bleeding. Swelling and any redness usually resolve by the next day. Sometimes a crust may form over the entire area treated. This can last a couple of weeks and when it comes off there may be some tattoo pigment in the crusted material. Cortisone cream 1% may help with the inflammation caused by the treatment. Antibiotic ointment is not necessary. Patients should see fading over the next 8 weeks.
Are There Any Side Effects or Complications?
Almost half the patients treated may show some hyper- or hypo-pigmentation in the areas of treatment. This usually resolves over the next 6-12 months, but may be permanent. There is a higher likelihood of hyper-pigmentation in darker skinned individuals. The following complications can occur but are very rare: infection, lack of complete removal, permanent scarring.
Dr. Jeffrey Gold, Medical Director at Laser Body Solutions in Hamden has been using lasers for almost 10 years for various forms of "selective photothermolysis" (SPTL). Laser Body Solutions is Connecticut's Home for Anti Aging Treatments for face and body.