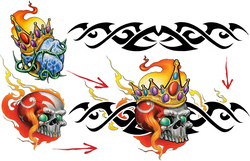 You have an image in your head and you need to get it out and put it on paper
Denver, CO (PRWEB) December 30, 2008
Tattoos have become a hot commodity in the modern age, painted all over reality television stars like Kat Von D and Bret Michaels and, very likely, hiding under your doctor's scrubs. TattooFinder.com, the online leader in tattoo design sales with over 25,000 tattoo-friendly designs in their collection, has helped make that industry more accessible and applicable to today's culture, reporting top tattoo trends as soon as they emerge. This past year, the company has seen a significant increase in the use of multiple-design reference in the industry, with more customers looking for several designs to customize into one unique tattoo. This is a drastic change from the "perfect tattoo" thought process, where a customer might search for one ideal design and have it tattooed with minor artistic changes, if any. It seems that today's ink lovers are taking a more self-empowering approach, exerting more control over the design process and working to create a design all the more unique to their personalities.
TattooFinder.com has been able to gauge the industry with their unique Internet data-gathering capabilities -- collecting accurate, real-time information about tattoo design sales trends and tracking new behavioral developments through customer support and interaction. The website sees an average of 50,000 unique visits to the site each day and recognized an increase in both traffic and sales in 2008. As an industry leader, TattooFinder.com works to research tattoo buying trends and the methods customers take to achieve their best possible tattoo experience. And, of course, that differs for each person.
"We've really discovered three general approaches that customers are taking during their tattoo process -- Personalized, Custom and Couture," says Tasha King, TattooFinder.com communications director. "From this research and our interviews with some highly influential artists and tattooists in the industry (like Friday Jones and Brandon Bond), we've been able to create our "Three-Approaches to Getting Tattooed" framework that can act as a guide for people who want to get a tattoo, but may not be sure about how to best go about it. The Custom approach is by far the most common in the industry and the increasing interest in multiple-design purchases reflects that."
The Custom approach encourages the tattoo customer to gather multiple pieces of tattoo-friendly design reference (like the thousands available on the TattooFinder.com site) and work closely with their tattoo artist to recreate those elements into one unique design. Other methods are the Personalized approach, which focuses on one design as artistic reference, and the Couture approach, which can sometimes take the artistic control out of the customer's hands completely. The Custom approach, however, gives ink seekers a great balance of design input and creative control and can help them better connect with their tattoo artist in the process. By using world-class, tattoo-friendly artwork from TattooFinder.com (that is created by an experienced flash artist, specifically intended to be tattooed and includes a design stencil), even the artistic novice can be creatively involved in the final outcome of their tattoo.
"You have an image in your head and you need to get it out and put it on paper," says Rachael Bardach, co-owner of Main Street Tattoo in Longmont, Colo., and TattooFinder.com CFO. "For any artist to do this, they'll need some information. When you say 'dragon' do you mean oriental, medieval or fantasy? Does it have scales or is it smooth? Evil or good? Is there some type of background like a castle or any style elements like tribal or Asian-inspired design? If you can find some visual examples of the things you want, like or dislike, it's going to really help the tattooist create something on paper that reflects exactly what you want."
TattooFinder.com customers are following Rachael's lead and incorporating several design references into their artistic consultation. They're looking for more input, more creative control and tattoo-friendly artwork that they can use in the creation of a fully customized final design. TattooFinder.com is giving them the opportunity to get involved in the full tattoo process by using some of the site's other features -- including private, pre-purchase design galleries and the ability to invite the input of family and friends -- all before they've even finalized their decision on design references. Getting a tattoo shouldn't be an intimidating process. TattooFinder.com is working to prepare customers with the tools and resources they need to have more creative control and to better connect with a tattooist for their best possible tattoo experience.
A full media press kit for TattooFinder.com can be found at http://tattoos-101.tattoofinder.com/press-media.
TattooFinder.com is division of Flash2xs.com, LLC, an Internet-based company located in Denver, Colorado, owned by Lou Bardach, Rachael Bardach and Brett O'Connor. Lou and Brett have worked in the Internet applications development, graphic design, and online marketing fields since the mid-1990s and Rachael has been tattooing since 1991. The TattooFinder.com website was launched in January 2003, and members of this team have been selling tattoo flash since the early 1990s. They currently have the largest online database of tattoo-friendly artwork, over 25,000 designs.
###