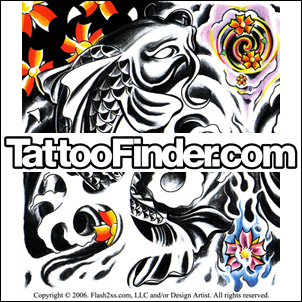 It's best to provide a tattooist with good reference artwork and stencils to accurately create the perfect tattoo for you on your skin
Denver, CO (PRWEB) December 27, 2006
TattooFinder.com (http://www.tattoofinder.com), the world's largest source for tattoo designs online, announces that non-traditional tribal tattoos dominate the list of "Top Tattoo Designs for 2006." TattooFinder.com has determined the most popular tattoos through the use of accurate, real-time, Internet-based data collected from tattoo design sales trends and customer behaviors such as user searches. TattooFinder.com is an expert in the field of "what's hot now" in the tattoo industry because of their unique Internet data gathering capabilities.
TattooFinder.com receives over 25,000 visitors per day and offers over 14,000 designs from 70 top tattoo artists in 15 countries. They also recently launched TattooFinder.com Premiere Accounts, a free service to tattoo studios that provide special access and discounts to qualified shops. With hundreds of studios interacting with TattooFinder.com on a daily basis and thousands of unique users on the site each day, TattooFinder.com is confidently able to declare "Tribal" (http://www.tattoofinder.com/FT_tribal_tattoos_designs.asp) as the main design theme for "The Top Tattoo Design for 2006."
While there are very specific origins of traditional tribal designs from Native America, Africa and Polynesia (Borneo, Samoa, and the Maori tribe of New Zealand) for example, tribal has been adapted for mainstream, modern day cultures. Variations of these traditional forms of tribal tattoos, oftentimes abstract in form, first grew to mainstream popularity as tribal armband tattoos. Today, what TattooFinder.com refers to as "stylized tribal" and "tribal accents" are now the "hottest" designs going.
Stylized tribal is the use of generally solid black areas and line work in oftentimes repetitive sequences to create a recognizable image in positive and/or negative space. An example might be a tribal dragon tattoo design where all parts of the design (scales, claws, teeth, etc) are assembled like a jig saw puzzle to create the complete image. Tribal accents use generally solid black areas and line work, usually organic (curved) in form as backgrounds or borders for a traditionally popular design. A tribal accent would be a red rose with long, smooth, black swoops extending to the left and right to form a tribal rose lower back piece tattoo design.
Among the most popular tattoo designs for men are tribal dragons, tribal skulls and tribal eagles. Tribal butterflies, tribal flowers, and tribal hearts in general are very popular among women. Tribal suns, moons and stars, tribal koy fish and tribal crosses (along with religious themed tribal designs in general) are popular with both sexes. Tribal Astrology designs continue to be popular, with Zodiac symbols such as tribal Leo, Scorpio and Pisces tattoos providing unique ways to adorn personal meaning on one's skin.
According to Lou Bardach, Managing Partner of the TattooFinder.com website, "The popularity of tribal tattoos probably doesn't come as a surprise to many; these are the designs we often see on people all around us. But the data we collect allows us to track the nuances of these trends. We know exactly what people are looking for and work hard to provide many design choices to meet our customers' needs. We also provide our talented team of artists with the details of our data so they can creatively find ways to design artwork that set new trends in the industry."
"It's best to provide a tattooist with good reference artwork and stencils to accurately create the perfect tattoo for you on your skin," states Rachael Bardach, Managing Partner at TattooFinder.com and Owner/Tattooist at Main Street Tattoo of Longmont, Colorado. "Tribal tattoo designs may sometimes look simple, and some of our customers come into the shop with stylized tribal designs they have drawn themselves because they are popular and they want something unique. But the best looking tribal designs have aesthetic qualities of balance and flow that unfortunately many people can't pull off very well on their own. Oftentimes, self created tribal tattoo designs aren't even "tattooable" as drawn by a novice (will not hold up well on the skin over time). But if someone brings a design to me they found on the TattooFinder.com website, they are providing me with good, tattooable reference artwork and a clean stencil so I know exactly what it is they want. This also better allows me to work with the customer to customize any design and make it more personalized."
Brett O'Connor, Managing Partner and Senior Engineer at TattooFinder.com explains the need for gathering this type of information in the tattoo industry. "TattooFinder.com is pushing the tattoo industry to be more client-driven. It used to be that a customer would walk into a tattoo studio and hopefully find a design off the wall they wanted to get tattooed. In a sense, people are now telling us what it is specifically that they want when they do a search on our site. Our job is to recognize and listen to what people are telling us, and to provide the best tattoo artwork available to meet their needs. When people search for something on TattooFinder.com and don't find what they are looking for, we take note and take action to make sure it's there in the future."
TattooFinder.com is an Internet-based company located in Denver, Colorado owned by Lou Bardach, Rachael Bardach, Brett O'Connor, and Brad Hutchison. Lou, Brett, and Brad have worked in the Internet applications development, graphic design, and online marketing fields since the mid 1990's and Rachael has been tattooing for 15 years. The TattooFinder.com website was launched in January 2003, and members of this team have been selling tattoo flash since the early 1990's.
# # #