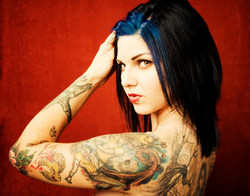 Tattoos are a living, breathing art form. They are an extension of a person's character,
Los Angeles, CA (PRWEB) February 2, 2010
Nearly two out of five people under the age of 40 are sporting one or more tattoos, according to a recent study by Pew Research. Body art is a white-hot social phenomenon, and the cultural trend shows no sign of waning.
"Tattoos are a living, breathing art form. They are an extension of a person's character, personality and life experience," said Raul Duenez, tattoo aficionado, owner and founder of TattooGalleria.com, an online forum for all things ink. "Everyone has a story to tell, and our new site is a medium for that."
The web site's looking to launch an online tattoo magazine providing a place to show off your skin adornment. It's a forum to tell others about your experience, as well as which tattooist did the artwork, who or what inspired you to get the tattoo, and what the experience on the table was like - all the gory little details.
"At TattooGalleria.com, you can talk about how the boss or boyfriend reacted or what Momma had to say about your body ink. Everyone wants to tell everyone else about their tattoos and their plans for their next ones," said Duenez. "Just go to the clubs and watch all the conversations that get started over them."
Through the site, subscribers can share a social connection through video clips, feature articles and photographs. "We are working on a offering a monthly publication" says the owner. Vendor participation is encouraged, as well as submission of personal stories and pictures. It's as simple as dropping us an email or follow us on Twitter @tattoogalleria.
Established in 2009, TattooGalleria (http://www.tattoogalleria.com) offers guidance on how to take the first step in selecting a tattoo design, and it links website visitors with vendors in the Los Angeles area and beyond. Site visitors can participate on the social networking forums and through Twitter. And now, members can view and share video clips and photographs of their pieces and read feature articles about tattoo artists, businesses and other body art fans.
The web site posts an extensive link collection of tattoo designs for ink and henna, which can be purchased and printed. They are sorted into many different categories: Armband, Egyptian, Tribal, Geometric, Gothic, Back Tattoos, Crosses, Celtic, Star Tattoos and more. The website also showcases tattoo books and DVDs. Tattoo Shops or artists can contact the sales team for Advertising opportunities.
"You can look through images before you head over to the tattoo studio to get inked. Spontaneous is good for road trips and eating out...not always so great for permanent body pigment," said Duenez. "Look through our site and tattoo galleries, review your options, and give it some serious thought. Take your time. There are some absolutely amazing tattoo artists out there." Anyone who wants to promote their name or tattoo business can do so on the site for $19.95 and their posting will be up for all of 2010. Not a bad deal especially when the forum is there.
###