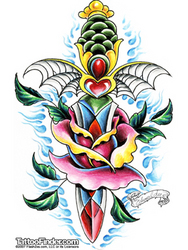 Since launching TattooFinder.com, our focus has been on empowering the end consumer in their tattoo process to a much larger degree
Denver, CO (PRWEB) July 17, 2008
Tattoos have permeated our culture --- with reality shows on TLC, glossy spreads of Kat Von D at the newsstand and fresh ink on celebrities from Angelina Jolie to Pharrell Williams. But where do you go to escape the fluff and get trusted industry information and tattoo support?
TattooFinder.com has stood out as an authority in the field and an advocate for tattoo consumers, trained flash artists and reputable tattooists. In response to the growing need for a comprehensive online tattoo community and educational resource, the company announces the launch of Tattoos-101.com. This knowledgebase and resource site supports the consumer in their entire tattoo experience from design and tattooist selection to the healing and aftercare process --- and even possible considerations in tattoo removal. Highlights include:

Rachael Bardach, managing partner of TattooFinder.com, tattoo shop owner and tattooist since 1991, stresses the company's responsibility to provide tattoo consumers with the wealth of information they've collected. "We've been in this business a long time, having built great relationships with both those in the tattoo industry and those seeking ink. Our company has a moral responsibility to take the very important information we have, both anecdotal and through data collection, and share it with those wanting to get tattooed. In a 'buyer beware' industry like tattooing, it's our job to provide accurate information so customers can make the best decisions possible and have their ideal tattoo experience."
TattooFinder.com is happy to further their role as an advocate for the tattoo consumer, many of which have formed a relationship with the company by searching through their online collection of tattoo-friendly artwork and finding their perfect tattoo designs. As a leader in individual tattoo design sales online, TattooFinder.com presently carries more than 22,000 pieces of quality tattoo design from a growing base of over 70 world-class artists, including Friday Jones, Aaron Bell, Spider Webb and Brandon Bond. Design purchases help to support these artists with a portion of all sales being paid on a royalty basis.
Aside from offering one of the world's largest collections of tattoo-friendly artwork, TattooFinder.com provides a relaxed browsing environment insulated from the potential pressures found at a tattoo shop. Users can store designs to consider in their "personalized" gallery and interact with friends, family and co-workers to get input on designs they might be thinking about getting tattooed. All designs are free to browse, and TattooFinder.com provides post purchase image manipulation tools and unlimited prints allowing the customer to flip, rotate and scale images to "try on" before they ever get to a tattoo studio. All purchases are non-expiring and available for immediate download and print, allowing ink seekers to take their full-sized artwork and stencils to the tattooist of their choice.
"Since launching TattooFinder.com, our focus has been on empowering the end consumer in their tattoo process to a much larger degree," says Lou Bardach, TattooFinder.com managing partner. "Finding a perfect tattoo design is only part of the tattoo process and only a step in the overall experience. Of course, after selecting the perfect tattoo design, the next question is 'Where do I get it inked?' There are many important decisions to be made when getting a new tattoo, and we encourage those seeking ink to educate themselves. We provide Tattoos-101.com as an authoritative educational resource, not only for the design selection process, but for the entire tattoo experience."
Managing Partner Brett O'Connor summarizes the company's technological approach with Tattoos-101 and beyond: "This is one of our subtle first steps towards a broad new technology change that will further empower end consumers. The many technology features of Tattoos-101, such as RSS feeds, advanced tagging system, search and social web integration, are precursors to the changes that will affect the rest of our websites, including TattooFinder.com. It's easy to see how Tattoos-101.com brings people with even just casual tattoo interest into TattooFinder.com's massive design library and, perhaps ultimately, to find their perfect tattoo design. Tattoos-101 isn't just a part of Web 2.0, it's part of a bigger idea we like to call Tattoos 2.0."
Tattoos-101.com is now live and fully accessible to the public, with more "Tattoos 2.0" development already in progress. Visit us online for more information and a full media press kit.
Tattoofinder.com is division of Flash2xs.com, LLC, an Internet-based company located in Denver, Colorado, owned by Lou Bardach, Rachael Bardach, Brett O'Connor and Brad Hutchison. Lou, Brett and Brad have worked in the Internet applications development, graphic design, and online marketing fields since the mid-1990s and Rachael has been tattooing since 1991. The Tattoofinder.com website was launched in January 2003, and members of this team have been selling tattoo flash since the early 1990s.
###