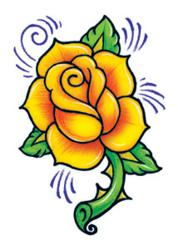 Temporary tattoos allow individuals to experiment with tattoo designs and placement on the body without making a commitment.
Tucson, AZ (PRWEB) April 30, 2012
More than 45 million Americans, or 14% of the population, have one or more tattoos. 40% of Americans ages 26-40 have at least one tattoo. Tattooing is a $1.65 billion industry that continues to grow with more than 21,000 tattoo parlors in the United States. While only 16% of these individuals admit to regretting having a tattoo, more might admit this if they were aware of many companies' cut-and-dry employment policies about body art and piercing.
Americans with tattoos could be making themselves less employable in what remains a very tight job market. First impressions in a job interview are vitally important and tattoos and body piercings can negatively influence employers. And recent research has generated some evidence to support these negative perceptions. A new study from the Université de Bretagne-Sud in France indicates that people with tattoos and body piercings are also more likely to drink alcohol and engage in other unhealthy high-risk behaviors than those without tattoos.
Body art policies exist in many companies. These broad policies are legal as long as they do not violate Title VII, the portion of the Civil Rights Act that bans employment discrimination on the basis of race, color, religion, sex or national origin.
So what's an individual to do regarding body art? If you are going to get one or more real tattoos, it's important to ensure that you choose areas of your body that are easily covered with clothing. If you already have tattoos that are visible in areas that cannot be covered, there's also the option of laser removal, which can be 10-20 times the cost of the original tattoo. Or, you can choose not to get a tattoo at all.
Another, more low-stress option is temporary tattoos. Temporary tattoos allow individuals to experiment with tattoo designs and placement on the body without making a commitment. Temporary tattoo aficionados use many designs for different moods, settings and periods of their lives. These fun tattoos are easy to apply and remove. Tattoo Manufacturing offers more than 3,500 in-stock designs that are made in the USA with non-toxic, FDA-approved inks. Plus, Tattoo Manufacturing offers free shipping in the United States.
Custom and in-stock temporary tattoos from Tattoo Manufacturing are affordable and easy to order at http://www.tattoosales.com.
About Tattoo Manufacturing
Tattoo Manufacturing, a division of TMI Acquisition LLC, is the largest manufacturer of temporary tattoos in the world. The company designs and manufactures all of its products in Tucson, AZ. Products are non-toxic, hypoallergenic, use FDA certified colorants and comply with CSPC/CPSIA and ASTM requirements. All products exceed US, Canadian and EU safety standards. The company's products have a worldwide reputation for quality. Visit http://www.tattoosales.com or call 1-800-747-8016 for more information.