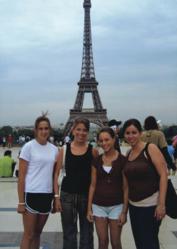 Tauck has been named the "World's Best River Cruise Line for Families" by the readers of Travel + Leisure magazine.
Norwalk, CT (PRWEB) October 09, 2012
For the second consecutive year, Tauck has been named the "World's Best River Cruise Line for Families" by the readers of Travel + Leisure magazine. The recognition, announced in the magazine's current issue, follows on the heels of Tauck being named to Travel + Leisure's overall list of the "World's Best River Cruise Lines" in its August issue. Tauck has been included on the "World's Best River Cruise Lines" list for four years running, including taking the number-one spot in 2011.
This latest Travel + Leisure honor comes just as Tauck is announcing its 2013 portfolio of Tauck Bridges family travel itineraries. Launched in 2004, the Tauck Bridges collection is comprised entirely of land journeys and cruises designed specifically for families traveling with children. Rather than dividing families with age-specific activities or facilities, Tauck Bridges trips are crafted to deliver "shared enrichment" through common experiences that allow family members to build strong, intergenerational bonds (or "bridges").
New Tauck Bridges River Cruise
Featured prominently in Tauck's 2013 Bridges collection is its new river cruise itinerary, "Bon Voyage: France Family River Cruise." The 10-day itinerary (from $4,690 per person, plus air) begins with an included two-night hotel stay with guided sightseeing in Paris that highlights the Eiffel Tower, the Arc de Triomphe, the Louvre and a special dinner at Fouquet's. Guests and families then travel on the high-speed TGV train to Lyon, where they'll board Tauck's MS Swiss Emerald for a seven-night cruise on the Rhone.
Tauck is including a number of fun and engaging activities for families throughout the itinerary, including a scavenger hunt in Paris' Louvre, a lesson in "petanque" (a ball game similar to bocce) in Viviers, a hayride in the Camargue, bicycling in Avignon, and a hands-on French culinary experience in Tournon. Three departures of "Bon Voyage: France Family River Cruise," will be offered in 2013, on July 11, July 25 and August 1.
In all, for 2013 Tauck will operate departures of 17 Bridges itineraries highlighting destinations in Europe, North America, Latin America and Africa. Each Bridges trip is fully inclusive, with all accommodations, ground transportation, entertainment, sightseeing, gratuities, most meals, airport transfers, luggage handling and much more built into the price.
Complimentary Hotel Night for Returning Tauck Bridges Travelers
Returning Tauck Bridges travelers can also benefit from the company's Gift of Time offer, which allows them to extend their 2013 journey with a complimentary hotel night. Guests can choose to redeem their free night at either the beginning or end of their Tauck journey, at the hotel normally featured on the first or last night of their itinerary. To qualify for the Gift of Time, returning guests must book their 2013 Tauck Bridges trip and secure it with a deposit no later than December 28, 2012. Other restrictions may apply.
Information on Tauck's full 2013 family travel line-up is contained in the company's new 76-page Tauck Bridges brochure, which is currently mailing to travel agents and consumers. Those interested in more information can visit their local travel professional, call Tauck at 1 800 468 2825, or visit Tauck online at http://www.tauck.com
About Tauck Bridges
Tauck Bridges family travel itineraries embody the company's philosophy of "shared enrichment," with each trip crafted so family members of all generations can experience the bonding, or "bridges," that result when the fun and learning provided by travel are enjoyed together. The approach, which is a marked contrast from cruise ships and all-inclusive resorts that emphasize kids-only facilities and activities, has been the guiding principle behind Tauck family travel itineraries since their launch in 2003.
The Bridges trips are also notable for being virtually all-inclusive, and for the high degree of advance planning and on-site "do-it-all-for-you" service that Tauck provides, leaving families free to relax and get the most out of their time together. Tauck Bridges journeys average 40 guests, ages 8 and over, and each is led by an experienced, professionally-trained Tauck Director who handles all day-to-day travel details.