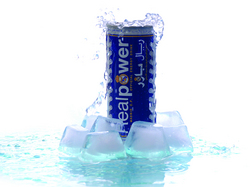 San Jose, CA (PRWEB) May 22, 2010
Taw9eel.com, in association with Baker group, announced that it has acquired the exclusive rights to market Real Power, the official energy drink of Real Madrid CF, in Kuwait. In addition to direct sales through Taw9eel.com, more than ten supermarkets already carry Real Power with more expected to carry the product in May and June.
"Real Power has huge potential in the Kuwaiti market, not just because of its Real Madrid brand name but also due to its nutritional ingredients. This will also add to our expanding range of exclusive products that fits perfectly within our expansion strategy" stated Abdullah Al-Dossery, Executive Manager of Taw9eel.com.
So, what is Real Power ? it's fresh, it's energy on demand.
Real Power Energy Drink, improves mental concentration, reaction speed, physical performance and stimulate your metabolism.
Enjoy Real Power while you exercise, study or at work.
Ingredients:
Taurine: Taurine is an essential amino acid and it is naturally occurring in our body. Taurine is also contained in the daily diet.
Glucuronolactone: It is naturally occurring in our bodies and it is also present in different food stuffs
Caffeine: Real Power contains low levels of caffeine, approximately the equivalent to a cup of filter coffee.
Other Ingredients: Carbohydrates, Protein, Vitamin B3, Vitamin B5, Vitamin B6, Vitamin B12, Niacin, Pantothenic Acid,
To order this product in Kuwait or in the Gulf region, you order directly from http://www.taw9eel.com or by calling our customer service line on +965 1 82 10 10. For wholesale inquiries, please contact Abdullah Al-Dosary.
Taw9eel.com is the leading eCommerce business in Kuwait with a wide range of products including groceries, beauty products, and electronics. With Taw9eel, fast services is guaranteed with a state of the art e-fulfillment solution.
The company is continually expanding with a flowers, electronics and fashion stores all within its expansion plans in 2010. Taw9eel also is continuing on expanding its offering of exclusive products with products such the hugely successful Carrot Sun Tan products and Real Power, the official energy drink of Real Madrid CF.
Taw9eel started off in May 2007 and has accumulated a loyal customer base of over 100,000. In 2008 the company opened its new call ordering center to improve its customer service.
The company is based of Kuwait and with a dedicated management team of 10 experienced professional and a team of 30 in its orders fulfillment unit.
###