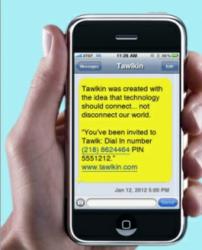 With Tawlkin, no matter how many people you talk to, you can track who is on the call and who is listening.
Santa Monica, CA (PRWEB) January 19, 2012
Social media played a vital role from the Arab Spring to the Occupy Movement in America. It led to protests in Russia and helped find people after an earthquake struck Japan. It also will prove to be a way to influence the 2012 Presidential election. Now imagine, instead of tweeting or posting something on Facebook [or having someone else doing it for you], being able to instantly speak, or TAWLK, to all your friends and followers on Twitter, likes on Facebook or individual groups – all of which you can do via Tawlkin, a new platform that connects up to 70,000 people to participate in a conference call together.
The new Tawlkin platform is more than just a mobile voice network or voice microblog. It is an extremely personal way to connect to hundreds and thousands of people. "With Tawlkin, no matter how many people you talk to, you can track who is on the call and who is listening," said Gerard Casale, CEO of Tawlkin." Analytics are important to measure engagement levels, obtain a pulse sentiment and manage your reputation.
With Tawlkin, you are the host and can easily set-up teleconferences with Facebook friends, Twitter followers, LinkedIn contacts or groups that you create through Tawlkin with just the push of a button on a mobile phone. Call hosts can also easily broadcast one-way calls from their mobile phone or land line to thousands of participants or follow and join existing public calls to listen to celebrities, analyst calls or news conferences. Calls are easily archived and searchable by topic.
"A beta version of Tawlkin was used last week in Washington D.C. as part of a panel conversation on "Restoring Prosperity in America" with host Tavis Smiley and panelists including Suze Orman, Cornel West, Michael Moore and others to engage in a highly personable and interactive way with the public," said Tawlkin CEO, Gerard Casale. "The Tawlkin platform provides users with the ability to create broadcasts on any subject and reach thousands of simultaneous listeners on a live call or via recorded short messages."
Tawlkin CEO Gerard Casale will be hosting a demonstration of Tawlkin, called a TAWLK later this week.
WHAT: A news conference via Tawlkin, announcing Tawlkin
WHEN: Tuesday January 24, 2012 9am PST
WHERE: To register visit http://www.tawlkin.com
About TAWLKIN
Tawlkin is a new kind of voice-based social media. It provides a more personal way to connect to friends, family, and business partners. Use Tawlkin to connect with thousands or host a private Tawlk on any subject. Discuss today's important topics on Trending Tawlks or download our app to use Tawlkin on the go. Tawlkin was created with the idea that technology should connect, not disconnect our world. Join the conversation and be heard today. For more information visit http://www.tawlkin.com.
###