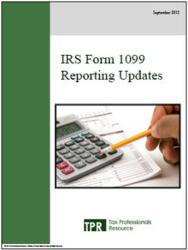 (PRWEB) October 11, 2012
Tax Professionals' Resource has recently published a new tax compliance white paper called "IRS Form 1099 Reporting Updates" that will help tax professionals, business owners and many others get up-to-speed on Form 1099 reporting requirements and stay compliant.
Over the last few years, major upheavals have been made regarding Form 1099 reporting. Tax professionals, business owners and many others scrambled to educate themselves about the extensive changes. Shortly thereafter, the vast majority of the proposed changes were repealed. In the aftermath, making sense of which Form 1099 reporting changes were repealed and which weren't can be quite confusing and online searches only add to the confusion. The most important Form 1099 reporting updates that have happened in the last few years are outlined in this white paper. Information about repealed updates are also included and will help those who are confused to ensure they are cognizant about Form 1099 reporting requirements.
This and other free tax compliance white papers can be downloaded by visiting the Tax Professionals' Resource website at: http://www.taxprofessionalsresource.com/whitepapers/a/irs-form-1099-reporting-updates?c=459
About Tax Professionals' Resource:
Tax Professionals' Resource is a training and development website dedicated to the enhancement of the tax profession. They are committed to the specific educational and developmental needs of members looking for unique, up-to-date tax training opportunities through audio conferences, seminars, webinars and articles. Members also gain access to product offerings and other educational tools that assist in securing their position at the forefront of their respective disciplines. Tax Professionals' Resource delivers an overall experience that gives their community of tax professionals a distinct competitive advantage.