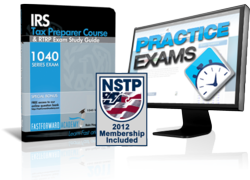 When there is a need to add more people to our team, the message is loud and clear that our offerings are needed.
Orlando, FL (PRWEB) December 18, 2012
Fast Forward Academy announces today that customer demand has prompted the high quality tax education company to double its professional tax service team to meet the demand.
Fast Forward Academy has an excellent reputation for its various tax education products it offers. Registered tax preparers and enrolled agents can take courses to meet required continuing education credits, and aspiring tax preparers and EAs can take exam preparation courses to help increase their odds of successfully passing challenging exams on the first attempt. Additionally Fast Forward Academy offers various webinars, in-person sessions, and videos to supplement content and offers various packages for tax professionals to choose from when selecting various courses.
Because of all these options, more tax professionals than ever are turning to Fast Forward Academy for tax courses, either to begin their tax career or enhance their professional development. This increasing demand has resulted in a need for more service personnel at the company.
Fast Forward Academy president, Matt McBride, comments about his company's expansion, "When there is a need to add more people to our team, the message is loud and clear that our offerings are needed. The fact that more tax professionals are turning to Fast Forward Academy for their tax education needs tells us that not only is there a need for such education, but that Fast Forward Academy is seen as the provider of choice for these services and an expert in tax preparation help. We're prepared for even more expansion in the future."
The service team at Fast Forward Academy specializes in all areas of tax education and can interact with customers by phone, email, or live chat (a recently added feature to the site). Customers can communicate with the service team in either English or Spanish.
Click here to see how Fast Forward Academy's service team can help you embark on or enhance your tax career.
About Fast Forward Academy
Fast Forward Academy, LLC provides companies and individuals around the world with the tools to help them efficiently manage their professional education needs. The name Fast Forward Academy reflects the scope of our mission—helping students and professionals accomplish more in less time. To realize this goal, we make every effort to provide the most useful and efficient exam prep material in the market place, all designed to help our students Learn Fast and Pass. Our principal focus is to supply rapid training and streamlined continuing education to professionals in the fields of taxation, securities and insurance.
###