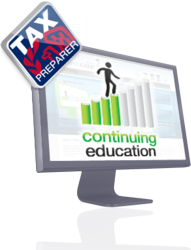 Fast Forward Academy wants to make it easier and more accessible for anyone who needs to complete required tax preparer education.
Orlando, FL (PRWEB) October 25, 2012
Registered tax preparers have until the end of December 2012 to obtain 15 hours of required continuing education tax credits. With just over two months to go before the deadline, Fast Forward Academy is launching some new package options for tax preparers at special rates to obtain required tax education hours.
Anyone who requires tax preparer education and signs up for Fast Forward Academy's full RTRP 15-hour CPE course will receive 2 hours of ethics education, 3 hours of federal tax law updates 2012 and 10 hours of other federal tax education. Options for the later component include Cancellation of Debt Income; Aspiring Authors Need Not Apply: The Correct Approach to Deducting Travel Expenses; Something Old, Something New, Some Divorce Tax Issues for You; Whose Deduction is it Anyway? Tax Issues for Divorced and Separated Parents; and Gliders, Geldings and Gamblers: A Review of the Hobby Loss Rules.
Registered tax preparers can now opt for 5 hours of premium tax CPE RTRP ethics and updates for only $39.99. This entire 15 hours is also available in premium content for $149.99 for those who need to complete the whole course.
Additionally, Fast Forward Academy is launching a special "story package" for only $39.99, which includes 15 hours of RTRP continuing education tax credits. This option allows tax professionals to achieve their 15 hours at their own pace with entertaining stories, illustrations and scenarios. The story-based content is both entertaining and educational, making the experience enjoyable to students.
Fast Forward Academy President, Matt McBride, is excited to be offering these special options for registered tax preparers. "With the deadline fast approaching to complete RTRP CPE requirements, many tax professionals might be wondering how to obtain necessary hours. Fast Forward Academy wants to make it easier and more accessible for anyone who needs to complete required tax preparer education." McBride continues, "Our story-package option gives tax preparers the opportunity to not only complete all 15 required continuing education tax hours, but to do so in a way that is entertaining, making the whole experience less stressful and more fun."
Some of the topics included in the story-package option include Preparing Returns with Multiple Income Sources; Self-Employment, Education Credits and Estimating Tax; and Marital Status and the Adoption Credit, Moving Expenses and Gain on Sale of Main House.
Click here to see a list of all available continuing education courses offered at Fast Forward Academy and learn how you can obtain required RTRP CPE credits online.
About Fast Forward Academy
Fast Forward Academy, LLC provides companies and individuals around the world with the tools to help them efficiently manage their professional education needs. The name Fast Forward Academy reflects the scope of our mission—helping students and professionals accomplish more in less time. To realize this goal, we make every effort to provide the most useful and efficient exam prep material in the market place, all designed to help our students Learn Fast and Pass. Our principal focus is to supply rapid training and streamlined continuing education to professionals in the fields of taxation, securities and insurance.