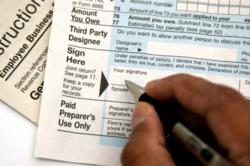 Settling tax debt in a timely manner could save a taxpayer time and money.
Hartford, Connecticut (PRWEB) December 25, 2012
Taxsmith.com is now offering its tax debt settlement solutions to taxpayers online. This expert tax attorney company has launched its services to help individuals and business owners that have taxation issues that require immediate resolution. Those searching for representation in any tax related issue can receive instant assistance after visiting http://www.taxsmith.com.
Local, state and federal taxes are payable by most individuals and business owners on a regular basis. The filing deadlines are determined each year and those that do not file on time could be liable to pay penalties, interest or other fees. Settling tax debt in a timely manner could save a taxpayer time and money.
The tax solutions now offered by Taxsmith are designed to be accessible and affordable for those with overdue taxes or that require negotiation with revenue officers.
A variety of collection methods exist when taxes go unpaid in the U.S. Unlike consumer credit collection agencies, bank accounts can be levied and wages can be garnished due to non-payment. A person or entity that has been turned over to a revenue officer could find that collection efforts and interest rates increase. The new services offered through the Taxsmith.com website are designed to provide tax debt relief.
The close of the tax year and fiscal year for many companies has one of the highest rates of defaults according to research. Mistakes that are made in payroll processing, federal tax preparation and state filing forms are typically found months after mistakes happen. Companies or individuals currently accumulating interest, penalties or being pursued for collections could benefit from a tax attorney for assistance.
A brand new assistance form has been added to the Taxsmith.com website. This form provides an easy way for someone with a tax burden or tax related issue to make discrete contact with an expert. This form provides one of the fastest ways to resolve an issue and is currently available online. Immediate access to this assistance can be found on this page of the Taxsmith website.
About Taxsmith, LLC
The Taxsmith, LLC company was founded by tax attorney, Angie Smith, Esq. The expert services that are now offered to individuals and companies are designed to eliminate tax issues promptly and professionally. With an expert team working online and offline, the Taxsmith, LLC company is able to provide its solutions to meet the scheduling needs of all clients. Tax preparation, tax filing, wage garnishment elimination, liens, penalty abatement and additional services are now offered and accessible online from the recently redesigned company website.