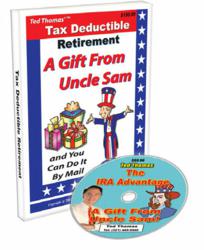 There are tax loopholes that some investors take advantage of when it comes to purchasing real estate or when making real estate investments.
Beaumont, Texas (PRWEB) December 17, 2012
The Social Security Administration reports that there are currently 38.9 million retirees receiving benefits each month. This number is expected to climb in 2012 according to research. Ted Thomas has launched a new book and training series that educates retirees about tax deductible retirement options in tax certificates and tax deeds. This training is now available at http://www.tedthomas.com.
Federal, state and local governments have tax codes that are used to help define the tax rate for retirees and average workers. There are tax loopholes that some investors take advantage of when it comes to purchasing real estate or when making real estate investments.
It is these loopholes that are discussed in the new investment strategy course and book launched online to help beginning and experienced investors learn to invest wisely.
According to the materials, the average person that invests in a tax certificate could double the investment in a three-year period. This money is tax-free from the government and is paid as an incentive to investors that help pay the back taxes of property owners. The money that is collected at public auction for the sale of certificates is used to support the local, state and federal economies.
TedThomas.com is one of the largest sources of training materials dedicated to the concept of tax certificate investing. Apart from standard certificates, the investments that are made into tax deeds could help someone to purchase an actual property for a discount. The tax deeds course information is one area that recently retired or long-term retired people could use to earn tax-free returns on invested funds.
County auctions take place weekly, monthly and sometimes bi-monthly in different states. Savvy investors that know how to select an auction and research the properties that are attached to certificates often benefit from this work according to Ted's new training and book series. The complete information about how to setup, manage and apply advanced strategies is now offered for the first time online.
About Ted Thomas
Ted Thomas has spent more than 20 years educating average people, real estate investors and entrepreneurs how to invest in mortgage-free real estate. Ted has traveled most of the United States learning the tax codes state-by-state to assemble his large collection of knowledge that is now taught to others. Ted Thomas uses the same strategies that he teaches in his workshops and seminars to purchase tax deeds and tax liens. As one of the most requested public speakers, Ted frequently appears at top business conferences to teach his investment strategies to others that want to apply his techniques in the real world.