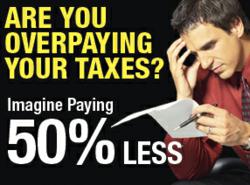 In many cases people assume their accountant specializes in tax strategies, when an accountant's job is to focus on compliance, not strategy
(PRWEB) October 10, 2011
Tax Solutions of America, which provides tax information and resources, offers a complimentary report about often overlooked tax strategies, and a service that quickly shows individuals how to reduce taxes to 10 percent or less.
"Though everyone should avoid overpaying taxes, the savings can be especially significant for higher income earners and business owners," said Drew Miles, known as "The Tax Savings Attorney", and owner of a company that advises corporations, consumers, and small to mid size companies on asset protection, tax savings, and wealth building strategies. "In fact, every client I've met with is overpaying their taxes."
Miles explained that in many cases people assume their accountant specializes in tax strategies, when an accountant's job is to focus on compliance, not strategy. This misconception has lead to a service that identifies the best asset protection and tax reduction strategies to individuals in a simple, yet highly-effective manner.
The tax saving and asset protection service explains strategies that can reduce a person's taxes dramatically and at the same time make them audit proof. In addition, specific IRS tax codes are provided to share with an individual's accountant to ensure all applicable deductions are utilized.
The service is risk free, and Tax Solutions of America prescreens all enrollees to asses if it's right for them.
"Business owners and people with incomes of $125,000 and more typically benefit the most from this service," said Miles. "The results of our consultation work, which are typically thousands, even hundreds of thousands of dollars, are apparent immediately and applicable the same tax year, as well as in years to come. It's all done by applying legal, ethical, yet often overlooked tax deduction strategies."
Business owner Gregg Harwood from Springfield, IL said he saved over $400,000 within the first year using the service's strategies, while Dr. Renny Edelson, a chiropractor from Plantation, FL, saved over $40,000 within the first 60 days. "I was shown deductions that I could barely believe until my C.P.A. confirmed them," he said.
The tax saving and asset protection service includes a live, interaction training session that takes about 90 minutes and explains how to apply proven tax reduction and asset protection strategies used by specialists around the country. The $199 fee is only charged if the individual is completely satisfied, To date, the service has helped more than 4,000 satisfied clients protect their assets and reduce their taxes.
To learn more about the services offered through Tax Solutions of America and to receive a complimentary 16-page report on tax saving strategies, call 800-370-6100 or visit http://www.taxsolutionsofamerica.com
Tax Solutions of America
Sebastian, FL 32958
800-370-6100
# # #